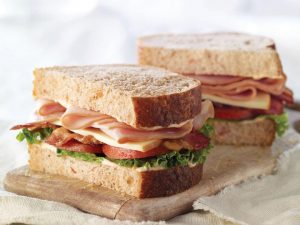 The demise of capitalism in the United States is amply illustrated by a lawsuit that took place back in 2006 in the state of Massachusetts between Panera Bread Company and Qdoba Mexican Grill. I came across this horrific little story while perusing Wikipedia's Sandwich entry. The sandwich, you might ask? A lawsuit? Sadly, yes.
There was a time in the United States when business owners and operators devised methods of defeating their competition by providing a better product, a lower price, more amenable service, or any number of other methods. While for many companies those days still exist, more and more we are descending ever further to a point where success is decided largely by government intervention.
The Panera in question was, perhaps still is, located in the White City Shopping Center in Shrewsbury, MA. The company agreed to move into the center as long as it was written in their contract that no other "sandwich" shop would be allowed to rent space there. The fact someone actually attempted wording like this in a contract is by itself alone enough to raise the ire of this Libertarian. Competition is the backbone of capitalism. Without competition the consumer is the ultimate loser. The fact that contracts like this are legal is another huge problem from my perspective. It encourages companies to rely on government backed capitalism, or Crony Capitalism.
More and more businesses must rely on government for survival. It is not enough the government spends enormous amounts of taxpayer dollars simply to support whichever business pours the most money into election campaigns, the government is the ultimate arbiter of legal disputes. The law and its equitable enforcement is a vital component of healthy capitalism and the law has gone wrong.
The very existence of non-compete clauses like the one Panera tried to enforce are an affront to the tenants of capitalism and, by extension, to our nation. If industries can legislate their rivals out of business as the primary way to achieve profitability, the consumers lose. While I'm not suggesting capitalism is dead, I do think it is beginning to fail. When competition dies it means the end of enterprise in the United States. Businesses in other countries will overtake industry here. They will win customers through true capitalistic ingenuity. I think this phenomenon is already manifestly occurring across the globe as other nations are filing larger number of patents and surpassing the United States as an innovative leader.
Our government's solution to the issue seems to be larger involvement in business processes. There is a strong sentiment in our leaders to impose tariffs and restrictions on the companies competing with businesses in the nation and this America First policy seems to have found strong support among a populace that apparently fails to understand what is in their best interest. So be it. We live in a nation where we vote for our leaders and if the people believe in this sort of intervention, we deserve what we get.
The proper solution is the opposite of this approach. Government should lessen their presence in enterprise. Many people consider this a reduction of regulations. The sad part is the majority of regulations are designed to give one company or industry an advantage over a competitor rather than protect the consumer. I support most deregulation for this reason. That being said, the main problem is government contracts and legislation decide which company makes a profit and which go out of business. This outcome should instead be related to the purchasing habits of consumers.
Only when companies survive by providing better products, cheaper products, and better service will they be able to compete globally.
A business that relies on government to save them from rivals is eventually doomed, either to foreign takeover or violent revolution. The government of the United States is culpable in all of this, and by extension the voters, and it should end. Voters have this power although they seem disinclined to use it.
Tom Liberman