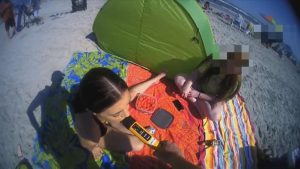 There's a viral video of a woman, Emily Weinman, being struck multiple times by a police officer that is making the news. Police have now released the bodycam video taken by the part-time officers who were at the crowded beach as extra security. Apparently, their job is to increase revenue in the region by harassing beachgoers.
Weinman is twenty-years-old and there were alcoholic beverages available where she was sitting. Officers didn't actually see her drink anything. Despite this; they approached her, asked her age, shoved a breathalyzer in her mouth, and then tried to cite her for having drinks on the beach.
She was understandably upset at this bully tactic used by officers to extort money from citizens. Apparently, she wouldn't cooperate and when they tried to grab her, kicked one of the officers. The video of him hitting her repeatedly is the result.
The problems here are many but the root issue is why police officers were trying to cite Weinman in the first place. It's largely about revenue. The part-time officers are bullies most certainly. They enjoy enforcing their will on people unable to fight back. They are worse than schoolyard bullies. That fact is not the focus of this blog. What I'd like to try and convince people is these inane laws are driving a horrible wedge between law enforcement and the community they are supposed to be serving.
Who was in danger from Weinman having an alcoholic beverage near her? She clearly wasn't drinking. We can be sure the breathalyzer came back negative, otherwise they would have ticketed her for underage drinking rather than simply having alcohol nearby.
The regulation itself is the problem and that is the case with so many laws. They are not designed to make us safer but simply to extract money from us. Most traffic laws are of the same ilk. Changing lanes without signaling, failing to come to a complete stop, running a red light at two in the morning when there is no traffic around.
Stupid laws of this nature give bully officers the opportunity to act out on their pseudo-sexual fantasies of dominating other people. If you don't think the officers in question enjoy forcing other people to follow orders, you are sadly mistaken. There are plenty of wonderful officers out there who don't try to enforce this nonsense. They are being slowly destroyed by their fellows.
The breakdown of trust between police and citizens results in terrible tragedies for all parties. The police are afraid, citizens are afraid. I belong to a number of Libertarian groups in which Anarchists make their feelings known. Well-armed and violence leaning anarchists. Police are enemy number one in their crosshairs, I don't use that word lightly. We see this attitude growing in alt-right organizations as well.
The more trust breaks down the more society itself is harmed. What's the solution? It's certainly complex and there are many issues. Still, it is bad laws that drive a lot of it. The War on Drugs, the age restriction on alcohol and cigarette consumption, an absolute myriad of traffic laws. All of these things done supposedly for our safety but in reality, just revenue streams.
This leads us to the first step in solving this issue. Remove as many of the moronic laws as possible. This gives police less reason and fewer opportunities to harass and anger citizens. This in turn leads to better relations between the community and the law-enforcement arm of our government.
Our politicians have largely spent our municipalities and our states into bankruptcy. They can't afford to pay teachers and need more revenue. How do they get it? By stealing from Emily Weinman.
Tom Liberman