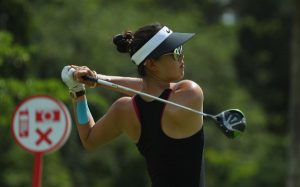 There was an interesting turn of events when the Ladies Professional Golf Association passed new dress code rules for players on the tour. The codes basically attempt to eliminate clothes that are a bit too sexy.
It largely prohibits the display of too much leg, too much bosom, or too much shoulder. Let me first say the LPGA has every right set their own dress code. If they want to ban short skirts, plunging necklines, racerback shirts, joggers, and leggings; that's their business.
That being said, the hypocrisy is rather rank. The LPGA has long promoted attractive players going as far as extending invitations into tournaments to particularly good-looking golfers who were not eligible by their playing ability alone. The modern version of this strategy is Paige Spiranac but it dates back as far as Jan Stephenson and probably beyond.
It's also clear that women wear far skimpier outfits while running in track meets, playing beach volleyball, and we see plenty of panty-clad bums on some of the finest women's tennis players in the world as they race around the court.
I'll be up front, I'm a man who admires the fit form of female athletes. I've always been attracted to women with athletic figures. I don't mind seeing a fine pair of shoulders, the sinews of a pair of strong legs in motion, or the firm upper arms of a woman who has seen the inside of a weight room. The fact that tight fitting clothes go along with better athletic performance is a happy coincidence as far as this fan is concerned. Boobs, I'm in the pro column.
The point here is that the majority of people enjoy looking at a fit athlete with a strong body. Sports Illustrated devotes an entire issue to naked athletes and another to women in, or partially in, swimsuits. That's marketing. If more people watch LPGA events that will lure in more advertisers, which in turn means larger prizes for the participants.
That's what bothers me about this new dress code. The LPGA has long attempted to market the better-looking golfers on their tour. Now they are upset some of the players are apparently doing the marketing themselves. Hey, it's fine if you look sexy the way we like to make you look sexy, but don't look hot the way you want. Not on our watch.
Again, it's the LPGA's decision to make. Rules are rules. But at least this observer finds them to be hypocritical in the extreme.
Tom Liberman