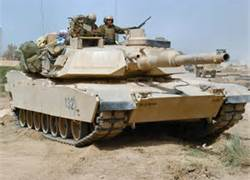 There was a story this morning on Yahoo about how Congress was pushing purchases for more of the United State's main battle tank, the M1 Abrams. When I got back from the gym today I had a difficult time finding the story which means it didn't garner much interest from the clicking audience. The reason: Republicans have no trouble with wasteful spending if it is on the military. Democrats have no trouble with wasteful spending.
The tank's service life is winding down and the Army Chief of Staff and others do not want to spend any more money on upgrades or new tanks. They are on record as saying they have enough, they want to spend money elsewhere. Can you guess why Congress is quickly moving to force the army to spend $437 million on new tanks? Crony Capitalism of course.
The tanks are built primarily in Ohio but in other places around the country as well. If that production stops then jobs are lost. I'm not particularly mad at Congressman Jim Jordan who represents the district where the tanks are built. It's his job to do the best he can for his district. It's all the other Congressmen who support this that rouse my ire although I expect nothing less.
Crony Capitalism has the word capitalism in it but it is the furthest thing from true capitalism you can imagine. It is simply the government picking which business they want to survive and funding it. It doesn't matter that this happens to be defense related; it's just that nearly half a billion dollars is a good amount of money and draws the eye. This isn't an isolated case. This sort of behavior is extremely dangerous to our freedom.
The reason this is so dangerous to our nation is because the very heart of capitalism is that well-run businesses succeed while poorly run businesses fail. A company that makes a product that no one wants must fail. If it does not the nature of capitalism is undermined. Men and women who strive to succeed and build a strong company, employ good workers at a fair wage, contribute to their community, and otherwise further the ends of the people must be allowed to succeed. When people like that see others who do not run good companies succeed, at their expense, they stop trying. That's one of the central messages of Ayn Rand's Atlas Shrugged and the Fountainhead.
We've seen time and time again that moneyed interests bribe our politician into rewarding failure. Each time we do this we encourage someone else to fail and discourage those who want to succeed. Failure must be allowed just as success must be rewarded, otherwise capitalism is undermined.
The real point of my post today is that the government far too often is the final decider in the success or failure of a business. Congress has decided, against the will of men and women in charge of the army, that a bunch of businesses in Ohio and other places will not fail. Congress alone has made that decision, not the market. We are the worse for that decision and many others just like it.
This Congressional intervention, this Crony Capitalism, subverts the system so badly that good businesses are destroyed while bad ones thrive. Today, the best way to succeed is to contribute to Congressional elections and running a business properly is less important. The year after year repercussion of this is inferior products made by inferior people. That's not how the United States became the greatest country in the world and it is in no small way the explanation of our recent decline.
Tom Liberman
Sword and Sorcery fantasy with a Libertarian Twist
Current Release: The Sword of Water (a story of fear and how a scared little girl learns to overcome it)
Next Release: The Spear of the Hunt
P.S. I just returned from Atlanta, Georgia from my sister's wedding. To the people of Atlanta: Your road signage is outstanding. Well marked, large, visible, repeated regularly. Excellent job. A big tip of the hat from this St. Louis Cardinal's fan.