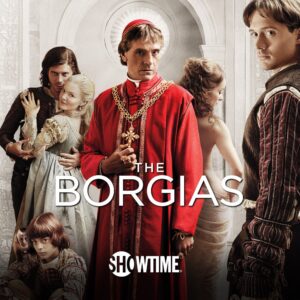 I managed to make it to the third episode of season one of The Borgias and I nearly wept because it was a great plot wasted. When people come to me asking for advice on how to write a novel, they invariable present an interesting plot.
Coming up with a good plot isn't particularly difficult, it's executing that idea into an interesting and compelling narrative which presents the bigger problem. Still, a good plot, or even a great plot, is of value.
The third episode of the first season of The Borgias presented an amazing plot device filled with promise. Then I watched a great plot wasted.
The Plot
Djem, the brother of the Sultan Bayezid II of the Ottoman Empire, arrives in Rome to be placed under the care of the pope. In reality, the Sultan wants Djem dead and will pay handsomely for the murder. Djem befriends the pope's two sons and daughter. In the end, the pope's younger son murders Djem.
Why it's a Great Plot
It's a great plot for a number of reasons. Djem is a handsome and vigorous young man who gets along well with the Pope's three children.
He is a younger brother figure to Cesare Borgia who regards him as someone to mold. An older brother figure to Juan Borgia who admires the spirit and vigor of Djem. A potential romantic interest to Lucrezia Borgia who finds him charming, intelligent, and interesting.
In addition to the potential exploration of these three relationship dynamics are the religious ramifications of Djem, a Muslim, staying with the pope, a Catholic.
The Ottoman Empire conquered the Byzantine Empire which is generally considered the eastern Roman Empire. This historical fact is another potentially interesting point of development to explore as the pope is largely associated with the Roman Empire.
The eventual murder of Djem by Juan is quite interesting in that we might explore the difficulty in reconciling duty to family with loyalty to friends.
In short, it's a plot filled with potential for drama, romance, and it's always useful to throw in a little comedy as well.
A Great Plot Wasted
What did we get? A great plot wasted. Absolutely tossed out with the garbage and left to rot in the alley. The problem largely stems from jamming the entire plot into a single episode. We meet Djem, get to know Djem, and kill Djem in about forty minutes. It's not enough time. We need to understand his relationship with the three children. His religion. His precarious situation back home.
To my way of thinking, this plot is so filled with potential it might have played out over an entire season. Certainly at least three or four episodes at a minimum.
We didn't even see the Sultan's ambassador speak with Pope Alexander VI. Right there, that's a great start. The ambassador arrives at the Vatican with pomp and ceremony. He visits Alexander VI and asks they take in Djem. There is huge potential of a great conversation where the ambassador makes it clear they want Djem dead without actually saying it. The offering of the bribe. What a fantastic scene that might have been.
Instead, we get Alexander VI telling Cesare in a casual conversation, oh, by the way, the Sultan wants Djem dead. Wow, that was great.
Next, we get a group of short scenes with Djem doing a variety of things with the three children. Eating lunch, playing croquet, sword-fighting. It's all designed to show us how Djem is liked by the family but there's no lingering conversations. We don't really get to see the friendships and potential romantic relationships grow over time. We need more of the scenes but slowly, over the course of multiple episodes, until we consider Djem a friend and an important character.
The only really interesting scene is when Djem confesses he wants to become a Christian because everyone is so nice compared to the casual murder and torture he is used to seeing back home. It's a good scene but we need more like it. We need Djem to talk about his brother more, to understand his situation, to empathize with him, to care. As it stands, we just don't.
The Murder
Finally, we get to the murder which should be heart-wrenching. We should see Juan struggling with his admiration and friendship with Djem and his obligation to his family. We see no such struggle. Juan seems eager for the entire thing until it goes wrong and he must murder Djem personally.
What conflict this might have been. The struggle Juan faces, some introspection, conversations with his brother about what to do, his father pressuring him against Juan's personal desires. Oh, I weep. Well, I don't weep, but it does make me angry at a great plot wasted. Wasted.
Going Forward
Now, I haven't seen past the third episode but it's clear the profound trauma suffered by Juan particularly but also Cesare and Lucrezia might well be the fodder for many plots and scenes going forward. I suspect the show will simply move on with barely a nod but maybe I'm wrong.
Conclusion
Why? Why did this happen? I don't even think you have to be an amazingly talented writer, director, or producer to see the potential of this plot. And yet, somehow, no one did. Rush, rush, rush. I've talked about rushing before so I won't bore you with more of the same.
What a terrible shame.
Tom Liberman