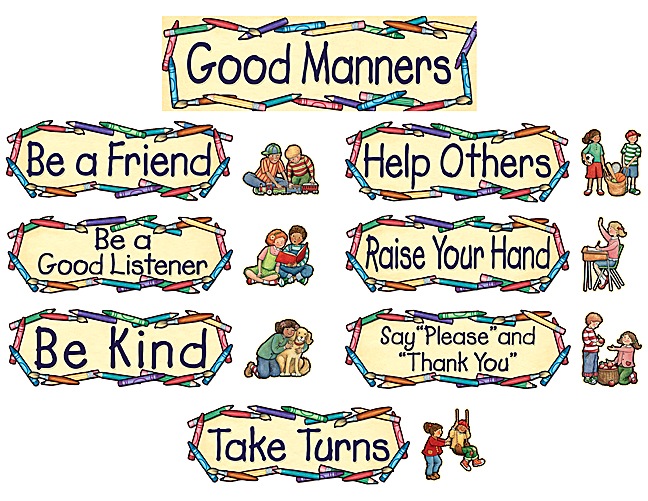 I just read an interesting article about how private industry has entered the education business with what some people would call Manners Classes.
The classes teach children as young as five things like making eye contact and smiling when they meet people and also which fork to use at the table. They try to teach skills that are necessary for people to get along socially. I didn't know what to make of the story to begin with. These are the sorts of things that were generally taught to children by their parents and that they need to have these classes outside the home is at first off-putting.
However, there is no doubt in my mind that people are less polite than they used to be. The article suggests that social media bears part of the responsibility in that people communicate without physically being near one another far more than in the past.
Certainly the anonymity of the internet comment section allows people to display the worst kind of vicious and boorish behavior without any consequences. Even the comments below the article in question were often nasty and ill-mannered with the person making the comment not grasping the ironic nature of their missive.
Read a blog, watch a news broadcast, listen to a politician, listen to your neighbor at Christmas dinner tonight and tell me where you see decency. Where do you see people listening to the ideas of those who don't agree with them? Where do you see people politely discussing their differences and finding reasonable compromises?
If you see what I see, it won't come as a surprise to you that children lack manners, lack common decency in dealing with others, lack civility, lack the ability to compromise, lack the qualities that will carry the United States through the difficult times ahead.
I'm not opposed to classes that teach politeness and manners, I'm for them. However, I recognize that you can take as many classes on a topic as you want but if you are surrounded by mean-spirited nastiness, with inability to work with those that don't completely agree with you, with people spewing angry rants who think their words are the only ones that count; well, children are going to follow those examples.
If we want children to learn to work together and accomplish things, if we want children to engage in real discussions and compromises that benefit the United States, if we want children to make the most of their lives; then the best way we can accomplish it is to lead by example.
The next time someone expresses an idea different from what you are advocating, take a moment to examine it for its real value. Look at the idea and forget your preconceived notions. Take a moment to research the facts. Speak politely with the person and express your ideas on why they are wrong. Understand that the world is rarely black and white, that most ideas have at least some merit. Consider that others are looking to you as a leader, as an example.
When you are watching the news or reading a story take the time to examine both sides of the issue with an unbiased perspective. Take a little time to do some research and read up on both ideas. Consider that there might be a compromise that allows for the good ideas from both sides of an argument to best achieve the goal. Consider that the ideas you promulgate might have drawbacks.
In other words, set a good example. That is, if you think being polite and mannered is a benefit to society. If you think people having the ability to work together rather than shouting each other down is a good idea. If you are for implementing your will completely once you have enough power to do so, then perhaps you like the way things are going in this country.
If you think the next generation is impolite, ill-mannered, and unwilling to compromise, then it's because they learned it from the previous generation (you).
As simply as I can distill it, show some class.
Tom Liberman
Sword and Sorcery fantasy with a Libertarian Ideology
Current Release: The Spear of the Hunt
Next Release: The Broken Throne