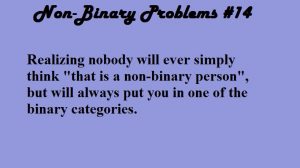 This world is made up of two kinds of people.
Morons who think things are binary
The enlightened who understand things are not binary.
And, to be clear, morons, I'm one of the enlightened non-binaries. You, fool reading this, are a binary cave dweller.
See!
Do you see!!
There's just two kinds of people. The enlightened people who realize everything is not binary, like me. Because we're better than you (just in case you weren't following). And then there's the rest of you idiots. There is no middle ground. I want to be very clear on this.
It's us intelligent, kind, thinking, non-binaries who understand the world isn't a zero or a one and the rest of you, who we hate (to be clear). You are stupid and wrong about everything!!!!!! And we're smart and right about everything!!!!!!
I hope I've cleared things up for you, binary idiots. Now, I'm going to go have some overpriced coffee with my non-binary friends where we will make fun of you and call you stupid.
Have a nice day, because, you see, I'm a good person who is just making the world a better place.
Tom Liberman
Sword and Sorcery fantasy with a Libertarian Ideology
Current Release: The Girl in Glass I: Apparition
Next Release: The Gray Horn