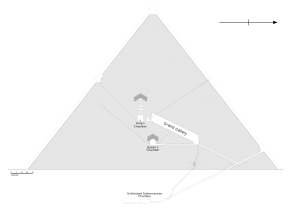 The pyramids of Egypt are in the news lately for a couple of reasons and it gives me the opportunity to discuss the nature of critical thinking. Of course I'll take it!
The first story involves a new chamber being found in the tomb of Tutankahmun.
The second story involves presidential candidate Dr. Ben Carson's assertion that the Great Pyramid of Giza was built as a grain silo.
Another group of stories involves how it is impossible for the pyramids to have been built with the technology of the time. I addressed this issue in another blog so I'll leave it alone today.
Finally is the twenty year timeline for building the pyramids themselves which is based upon certain assumptions.
The first story proudly declares that a new, hidden region was found in the burial chamber of Tutankahmun.
When I finally got around to reading the story I discovered that no such new chamber has been found at all. What they do is scan the region for temperature. An area where the temperature is slightly cooler might indicate a draft from a room. It could also indicate some damage to the structure that is letting in air. No one has gone into these areas because to do so would potential destroy them. It's a lot of speculation and, frankly, I'm not convinced. It seems more likely to me that the cool areas are caused by structural flaws than hidden chambers, particularly because any number of these were found in the analysis.
Maybe I'm wrong. Maybe there are many hidden passages in the burial region. It just seems to me that it's best to go with the most logical explanation before leaping to the most sensational conclusion. That's critical thinking.
This, naturally, leads me to the rather bizarre assertion by Carson that the Great Pyramid of Giza was a grain silo. I've included a diagram of the pyramid to illustrate why this conclusion is so unlikely. The grain silo explanation has to do with a biblical story about Joseph warning Pharoah (Genesis 41 ESV) that seven good years would be followed by seven lean years and thus grain should be stored away.
What is called the main shaft of the pyramid, which leads to the burial chambers, is basically equivalent in dimensions to a silo. However, building a grain silo of those dimensions would have been trivial to the people that built the Great Pyramid. One look at the diagram above makes it obvious that it was not designed to store grain. Only someone who desperately wanted to come to the grain silo conclusion could possibly think otherwise. This is called a Cherry Picking fallacy. From what I've seen of Carson this fallacy seems to largely determine his entire thought process.
Finally, as to the twenty year time scale on the Great Pyramid of Giza. This is based on three facts.
Workers left a mark in an interior chamber with their name on it and the name of Pharaoh Khufu.
Khufu reigned for 23 years. This is disputed.
The mummification process took some 70 days to complete.
From these three facts Egyptologists assume Khufu started the Great Pyramid upon ascending to the throne and that the completion of the pyramid coincided with his death.
I find these conclusion dubious. Khufu could have died long before the Great Pyramid was completed and been stored away until then. His reign could have been much longer than twenty years, some sources put it at over sixty.
The most logical conclusion I can draw is that some other Pharaoh started the pyramid but it was finished during Khufu's reign and he simply usurped its use for himself.
Do we know for certain? No. But why not go with the most apparent conclusion first? Why leap to an unlikely scenario?
Tell me where my critical thinking skills have failed me in the comments!
Tom Liberman
Sword and Sorcery fantasy with a Libertarian Ideology
Current Release: The Girl in Glass I: Apparition
Next Release: The Gray Horn