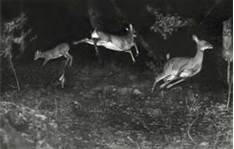 Do you fear sharks?
Do you fear deer?
The concept of fear is one of the main themes in my upcoming novel The Sword of Water. I'll be talking about fear in a number of blogs from now until it is released.
I've spoken to a number of people who fear shark attacks. I've never spoken to anyone who feared deer.
The number of shark attacks in the world reached an all-time reported high of 75 in 2011. Does that number make you pause before entering the ocean? Does it make you want to spend public money to make beaches safer with shark netting and other safety precautions? I wouldn't think that you're alone if it does.
Were you aware that over 200 United States citizens die every year in accidents caused by deer darting in front of their car? The chances of dying from a deer in the United States are significantly higher than those of being attacked by a shark. Remember, the numbers listed in the link are shark attacks worldwide. Attacks and deaths in the United States are much lower than the 75 listed in the article.
Sharks are scary looking. Deer are not. Sharks have nasty bitey teeth. They are top-level predators. They are scary. But, the reality is that deer are far more dangerous. Let's be honest, last year more than 32,000 people died while driving and this represents a decrease! In 2009 some 37,000 people died from drug related incidents. These are largely not criminal drugs but prescription medication.
My point here isn't to be an alarmist. Life is dangerous. You can be killed by a shark, you can die when a deer causes you to drive off the road, you can be killed in a non-deer related traffic accident, your prescription medication can kill you, you can be hit by lightning, or die in a fire.
The question to ask is if we want to live in a world with no deer, with no sharks, with no cars, with no pain medication? Do we want to trade the experience of life for safety?
The old saying goes that freedom isn't free. That might be true but more pertinent to the world of today is the idea that freedom isn't safe. Our politicians promise us safety in exchange for freedom. It's a bad bargain. Anyone who offers you safety for freedom is up to no good. We live in an ever-growing police state where the government has the ability to watch us at all times, to arrest us without cause, to hold us without charge, and to torture us because we might have useful information.
I guess I'm saying don't let our fear of deer stop you from driving to the park. Just know they could be on the road and be prepared in case one jumps out in front of you (run it over, don't swerve).
I'll be talking more about fear in the coming weeks and months. I think it's an important topic for all of us to think about.
Tom Liberman
Sword and Sorcery fantasy with a Libertarian Twist
Current Release: The Hammer of Fire
Upcoming Release: The Sword of Water