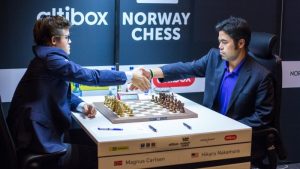 I was on Lichess watching the Magnus Carlsen v. Hikaru Nakamura match of the Magnus Chess Tour Finals when an interesting example of thinking for yourself, and the benefits therein, presented itself. It is often suggested thinking for yourself is better; but if someone else does the thinking for you, and always gives you good answers, why not just do what she or he says? I'll tell you why.
Many of those watching the games rely on the computer analysis to tell them who is winning at any particular moment and what is the best move to make for either player. Others of us watch without the computer engine analysis and discuss what might be the better move and which player seems to have the advantage at any given moment.
It is clear those using the engine to tell them the best move and who is winning are clearly correct far more often than those of us simply watching the game and relying on our own calculations. Therefore, they are better off, right? Wrong.
Thinking for yourself is not only a great deal more fun, it not only makes you a better chess player, but it also actually gives you greater insight into the game being played at that moment. Here is what happened twice during the match I watched yesterday. Warning, if you're not a chess fan this might get a little dull.
Basically, during a game there are moments when you can sacrifice a piece in order to gain initiative through tactics. When you are thinking for yourself, you are looking for such tactics. When you are relying on the computer to tell you the best move you largely are not watching for such moments.
In two games there was a potential tactic available for several moves which covered perhaps ten minutes of time allowing time for analysis. Those of us in chat not using the computer mentioned the sacrifice possibility multiple times and eventually, in both cases it was made.
This leads me to the purpose of this entire blog. When the sacrifices were actually viable, the computer engine immediately suggested them as the best move and those relying on the engine began to speculate if the player might see it. These fans thought it was almost impossible to see such a move. When the player made the sacrifice, they were stunned by the astounding ability of the player.
Of course, those of us not relying on the computer had long been speculating on the move and didn't see it as all that impossible at all.
I guess the point is, yes, if you rely on almost perfect machines and aren't thinking for yourself, you will win every chess game but once those engines are off, you have no idea how to play at all. You get no enjoyment from predicting the move a Grand Master makes. No thrill of seeing a brilliant sacrifice on your own. Your life is both diminished in enjoyment and your ability to make good decisions without help is irreparably damaged.
Turn off the engine, stop listening to other people, think it through yourself. It's harder, yes, but more rewarding.
Tom Liberman