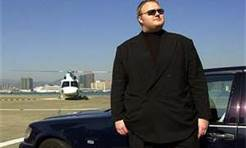 I know the world is fascinated with Lance Armstrong and Manti T'eo but today I'm going to post on a subject that I think is far more important to all of us. File Sharing. It's not a sexy topic outside the geek world in which I reside but give this a read and see what you think.
About one year ago today the FBI asked the country of New Zealand to arrest a fellow named Kim Dotcom and his partners over his ownership of an internet file sharing site called Megaupload. It was a file sharing site where people could place files to be searched by others and downloaded. Some, if not many, of these files were copyrighted material. The movie industry, the recording industry, the publishing industry, and others consider people who purchase their material and then share it with others to be criminals. Because the site had this copyrighted material the FBI became involved most likely at the behest of the powerful music and movie industry.
The arrest itself used illegal warrants and Dotcom was illegally under surveillance; all of which has come out in court. He was subject to torture like tactics in prison, little food and water and deprived sleep. He was initially refused bail.  He is now free on bail and come up with an interesting way to start his company anew and be immune to prosecution. His new site will feature files encrypted so that the site administrator will not have access to the file contents. This means he will have no real knowledge of copyrighted material on his site. The FBI will have to go after those participating in file sharing rather than those simply providing a medium for others to carry on illegal activity. Because there are so many people fire sharing on such a vast scale it is all but impossible for authorities to arrest everyone involved and, if they did, would likely be subject to serious questions about their own families who are likely also sharing files illegally.
I'm an author of eBooks so this is a question that affect me directly. If people share my books without buying them then technically I lose money. But, the real losers, the ones who are pursuing this case, are the industries that profit off the artist's work. Artists on their own will find a price point for their material that people are willing to pay instead of ridiculously inflated prices foisted on the public by the recording, movie, art, and publishing industries. I sell my books for $2.99. Almost everyone I know thinks that this is a reasonable price for a 300 page novel. If I went through traditional methods and got a publishing house to showcase my novel; the price to you would likely be $19.99. Now, in fairness, I went to agents and tried to get them to try to sell my books to the publishing houses and failed. So, maybe I'm just bitter. But as it stands now, I want nothing to do with the publishing industry. If people want to purchase my books for $2.99 then they will buy them. If my books are good, I will find an audience. If not, oh well.
That's all beside the point to some degree. Digital media is here to stay and a real way to combat file sharing is for prices of such content to be lowered to a point where people won't want to steal it. The other method is to put your content on Hulu and Pandora and other places where advertising pays per view. People watch what they want at the minor inconvenience of a few commercials. But, the illegal arrest of Dotcom and the continued prosecution of his case is nonsense. I have no doubt the movie, music, and publishing industries will try to stop his latest endeavor but I hope at some point they realize it's hopeless.
File Sharing means that artists like myself can create and sell their work without an industry. That means you, the public, will have access to more material, better material, and at a better price. Sure, there are lots of horrible self-published books out there, and you might think mine are among them; but there is also amazing books, art, music, video, and other media out and available that would never have seen the light of day without file sharing and the internet.
Dotcom, you go! This eBook author applauds your efforts and prices his product so that even if someone does illegally download my books, they might enjoy them enough to go back and plunk down the $2.99 for legal copies.
I'd like to hear from other independent authors, artists, musicians, and the like to see what they think about this subject,
Tom Liberman
Sword and Sorcery fantasy with a Libertarian Twist
Current Release: The Sword of Water
Next Release: The Spear of the Hunt