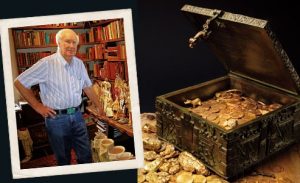 A fellow by the name of Jeff Murphy recently died while searching for the Forrest Fenn Treasure. The entire series of events speaks directly to this Libertarian about the place of government in society. He claims to have left the Fenn Treasure worth approximately $2 million somewhere in the Rocky Mountains and at least four people have died searching for it. What do we take from this?
Fenn is unapologetic. He says life is dangerous and if people choose to look for the Fenn Treasure that he claims to have placed, that is their business. It is not his responsibility should they die while doing so. The relatives of the people who have died, and those who have spent considerable time and effort, seem to largely agree.
The gold coins, jade figurines, rubies, emeralds, diamonds, and gold nuggets that Fenn claims are buried somewhere in the Rockies are supposedly worth about two million. The people who spend many hours of lives looking for this treasure seem to have no regrets, nor does Fenn, despite the deaths.
As a Libertarian I think it's perfectly reasonable for people to choose to spend their time looking for this treasure despite the potential dangers. I also think it's not a legal issue if he chose to place the Fenn Treasure in a hidden location. Now, that being said, I think it's a bad idea. Fenn has largely instigated the events that led to people dying, but the deaths are entirely the responsibility of the searchers. They chose to look for the treasure. They well understand Fenn might be lying. People lie all the time, it's not illegal to lie.
Fenn receives nothing from those who waste their time searching for the potentially non-existent treasure. He has written a book on the subject and people have purchased it, but no one is being forced to buy the book or to spend their time searching for the treasure. That is their own decision, foolish as it might be.
People do stupid things all the time. I might relate my own story involving a dark-haired vixen at the gym whom I recently pursued to no avail but I shall remain silent. There is no law against being stupid and that is a good thing. It is exactly when the government tries to save us from our own idiocy that we run into significant issues. It's just not the government's job to stop us from doing dumb things, that is up to us.
To my way of thinking it is situations exactly like this that lead to government overreach and with the willing help of We the People. It's tragic that Fenn has either placed the treasure or lied about doing so because it led other people to die. He is undeniably irresponsible. On the other hand, many people have gone searching for the treasure and had fine adventures without hurting themselves physically and probably gaining some benefit from the time spent exercising outdoors.
When it comes to personal liberty there is always a tradeoff in safety. Freedom is free, it's just not safe.

Loading ...
Tom Liberman