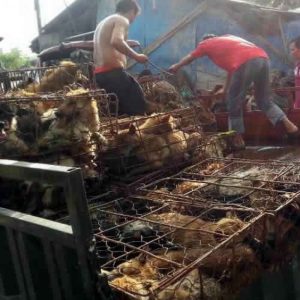 One of my Facebook acquaintances who is deeply passionate about animal rights recently posted about the Lychee Dog Meat festival in China. I think it's fairly reasonable to suggest that most of us in the western world are not particularly comfortable with eating canines. What can be done about it? What is the best way to stop such behavior? This question speaks to my Libertarian ideology.
I recently wrote several blogs about the horse meat industry and I think the comparison is reasonable. When horse lovers lobbied Congress sufficiently, laws were passed that defunded the inspection of horse slaughter houses. Because it is not legal to slaughter animals in the United States without such inspections, the industry was eliminated. Yet, the practice continues.
The efforts of people like my friend on Facebook are used to put pressure on China to outlaw the Lychee festival. In China manipulative legislative runarounds like that which was done with the horse meat industry are unnecessary. They do not live in a free society. If the government wants to prevent a particular activity, they simply issue a ban. There is no Constitution to maneuver around. If my friend and her allies can put enough pressure on China to outlaw the festival, it will happen, but will it work?
In China the government position is that the Chinese people do not hold dogs in the same regard as companions as do Westerners. They find our slaughter of cows and chickens to be far more egregious than the single festival in which a few thousand dogs die. In this, I believe they are correct. More cows and chickens are slaughtered in a single day than die in the yearly festival.
Opponents of the festival argue the dogs die in unsupervised, and horrific fashion. That many of the animals are stolen from their owners. I have no way of knowing if this is true or not but it certainly seems plausible.
Now we get down to the reality of this world. The Chinese people enjoy the meat of dogs. The people of the United States largely find such slaughter abhorrent.
Let's imagine for a moment that the Chinese government comes around the way of thinking of my friend. They ban the slaughter of dogs, they outlaw the Lychee festival. Do we think that such will prevent dogs from being slaughtered and eaten? The answer is obviously no. As long as Chinese people want to eat dogs, dogs will be eaten. Horses are still slaughtered and eaten in the United States, it is just done via a black market. The price increases, money is delivered into the hands of criminals. The ban is largely ineffective.
It seems obvious to me such would be the case in China. The Chinese government might even give lip service to such a ban but would not bother to enforce it. This is the problem with relying on government to solve problems. Sure, they can pass laws, they can make heroin illegal, they can make speeding illegal, they can outlaw certain variety of firearms, but these laws never stop human behavior. If people want to consume drugs, to drive quickly, to purchase firearms; they will continue to do so.
We only give ourselves the illusion of safety and harmony with such laws. In reality the behavior continues largely unabated or even enhanced by the lure of danger.
What is to be done? My friend is passionate, she is caring, she strongly believes in the rights of animals. I applaud and admire her dedication and think it is people like her who will eventually bring about change, if change is to come. She should continue to make her opinion known, convince one person at a time. It is only when people no longer want to consume dogs, or horses, that the Lychee festival will end. The government is helpless and hopeless.
Do not rely on government to legislate. Convince people, convince the individual. The individual has the power. If you cannot convince the people, then you need to make a better argument.
Tom Liberman