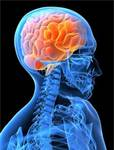 There was an interesting article on Yahoo this morning and, as is often the case, the comment section was in many ways more thought-provoking than the story.
The gist of the article was that mice who were isolated from other mice or a stimulating environment showed significant brain abnormality as compared to mice who were not isolate or given an exciting environment. The main point being that early infancy is a vital time for children and that physical brain growth is altered by the environment in which the child resides.
What I found very interesting is that most of the comments focused on the idea that being alone is not bad at all. I'm someone who does not care to spend much time with other people but I think this is not at all what the study indicated. I wouldn't mind seeing a study of adults who are isolated and the physical effect on their brains but I strongly suspect that the issue here is the growing brain of children.
I don't want to get too far afield here but I'm always shocked by the number of people who either read the headline and not the article and come to an erroneous conclusion or those who actually read the article and apparently do not comprehend anything that it said.
Time and again I see earnest commenters, not those crazy-fun trolls, who have completely misunderstood what they are commenting about. Even in everyday conversation people just don't make the effort to understand what the other person is saying.
That's really about it. The article was very interesting but not unpredictable. The comments generally completely off base because of the lack of reading skills or the lack of reading comprehension. Nothing new to report. Take the time to understand what you read, what other people say, and react accordingly. Not a shocking conclusion.
Tom Liberman
Sword and Sorcery with a Libertarian Twist
New Release: The Hammer of Fire
P.S. I haven't been doing many blog posts lately because I've been writing the rough draft on my fourth novel, The Sword of Water. I've written 50,000 words in the last two weeks. You can join Good Reads and check out my Q&A Group if you want to keep up with my progress.
P.P.S. I'm eventually going to be posting about the recent violence in the Arab world but I want to think about it a bit first. It's an extremely relevant topic and I think deserves some serious thought before I start reacting to events.