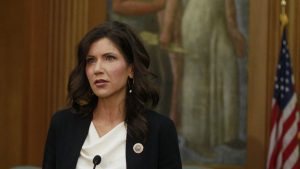 The Situation
The governor of South Dakota, Kristi Noem, delightedly announced she eagerly anticipated signing a ban on transgender girls playing sports on female restricted teams. For those of you eagerly anticipating a defense of transgender girls' right to play sports, you should start looking elsewhere. This isn't a defense of transgender girls but an attack on government overreach.
The problem is the governor of South Dakota is of the opinion that she can force her will upon her constituents in a matter far outside the purview of her office. Why would the state government think they can tell local school districts who can and cannot play on their sports teams? That's the problem and it's pandemic among both Republican and Democratic legislatures.
Why It's Wrong
Trying to legislate who can play on a sports team from the governor's mansion tramples on the rights of the people in local districts. You must remember, if you support Governor Noem and this law then you must also support the governor of another state who signs legislation stating transgender girls must be allowed to play on the local sports team. If you cede such power to the governor then you deserve a totalitarian state that dictates virtually everything to you, because they think it's better for you. That they know better how you should lead your life.
This is clearly the sort of situation that must be handled at a local level. If one district wants to allow transgender girls to play on their sports team, as decided by the school board members who were elected by the people of that district, then that is exactly what they should do. If the school board members in another district argue against allowing transgender girls to play then that is likewise perfectly reasonable.
When another school district decides they would rather forfeit a game than play against a school that either allows or disallows such a player, then that's their business as well.
If the parent of a student disqualified doesn't like it, they can attempt to sway the constituents of their district. If the parents of a student playing against such an athlete doesn't like it, they can attempt to sway the constituents in a similar manner.
That's the way government should work. It shouldn't be the party in power at a federal or state level simply issuing decrees to the people of their state about everything they get a hair up their ass about. If you'll pardon my strong language.
Conclusion
I don't think my conclusion will surprise anyone. Governor Noem and those who voted for this legislation are engaged in enormous government overreach. It's clearly not a matter for government to be involved in, it's something for every school district to decide for themselves.
When you permit government overreach with which you agree, you clearly allow government overreach on topics you oppose and which you will certainly start whining about on social media.
Tom Liberman