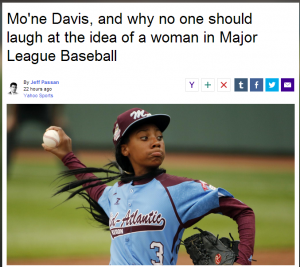 And we have a winner in the Misleading Headline of the Week contest!
I usually find my Misleading Headline on Yahoo which conglomerates from other places but today the story is actually from the desk of Yahoo Sports.
Mo'ne Davis, and why no one should laugh at the idea of a woman in Major League Baseball screams the banner rolling across the top of the story about the young girl who is pitching well in the College World Series. She's grabbed the attention of America and this was demonstrated the other night when my niece and mother were extolling how this girl was beating all the boys.
I had to remind them that a thirteen-year old girl is often times bigger and stronger than her peers.
As is often the case with my Misleading Headline of the Week the story itself is very rational. It explains that girls of this age not infrequently excel against their male competition but then puberty hits. Mo'ne is likely not going to be getting bigger than her already 5′ 4″ frame. The boys she will be playing against will soon be well over six-feet tall and weigh 200 lbs.
It's great that Mo'ne is doing well. It's a neat story and I wish her the best. She's may get invited to throw out the first pitch at a Phillies game this year but she won't be taking the mound in a competitive game at the major league level. There are a few young women who throw a decent knuckleball and it's just possible they'll play in the minor leagues but I don't see any conceivable way a woman is going to be a major league pitcher.
As I said, the article covers all these facts quite nicely. It's a really well-written article. The headline used to generate interest? Not so much.
Go get 'em Mo'ne!
Tom Liberman
Sword and Sorcery Fantasy with a Libertarian Edge
Purchase The Broken Throne today!
See All my Books