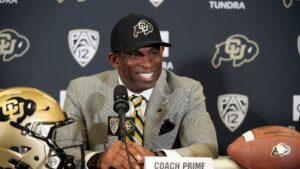 Deion "Prime Time" Sanders recently took a job as the head coach of the Colorado Buffalo's football team and a lot of people aren't so happy about it. I've read quite a few articles claiming he cannot build a winning program, that he only wants to make money for himself, that anyone who hires him is a fool.
After those articles I've read the comments which, outside of Colorado fans, are almost universally negative toward Deion Sanders. It piques my curiosity that so many people feel the way they do. I have my thoughts on the subject. Let's talk about it.
Deion Sanders is Prime Time
There is no doubt that Deion Sanders lives up to his nickname of Prime Time. He's brash, he's confident, he's the sort of fellow who proudly tells you he's going to beat you and then often does so. He's arguably the greatest defensive back in NFL history and was one of the finest athletes in the world.
This sort of cockiness often brings out the haters and I think this is one of the reasons people are rooting against him.
Deion Sanders is Black
Much as some people would like to deny it, racism is still around. There are hardcore racists and more subtle racists. The fact of my first point combined with the second brings out the racism. Not only is he black but he's cocky, uppity even. The same sort of brashness out of a white guy is perceived as toughness, no-nonsense manliness.
The Bottom Line of the Deion Sanders Hate
The bottom line is the bottom line. Deion Sanders is a relatively young, brash, black man who is coaching football. An enormously outsized percentage of the best high-school football players in the country, called five-star recruits, are minorities. Young, black athletes are choosing to go play for Deion Sanders. This is a threat to the institutions that currently dominate the sport.
I'm certainly not saying all the top recruits are flocking to Colorado to play but it makes a difference. If a dozen five-star recruits go to play in Colorado instead of Alabama, Georgia, Ohio State, Auburn, LSU, and the other dominant college teams; those teams are slightly less good.
This is not just about bragging rights for those powerhouse schools, it's about money. A lot of money. Those schools generate billions of dollars in revenue by having good football and basketball teams. The coaches make millions in salaries and more in the redistribution of the clothing contract money, private flights, loans for houses, and other perks.
The alumni of the schools do business in million-dollar luxury boxes where they entertain important clients. The wealth is enormous and its influential tendrils permeate every aspect of college towns and beyond.
If Deion Sanders succeeds then he won't be the last young, black man to take over a program and siphon talent away from the power schools. That's a real threat and people are genuinely worried. They have a vested interest in making sure he fails at Colorado.
Conclusion
Deion Sanders isn't the most likeable human being in the world to begin with and the situation here is what people often call the perfect storm. The reality is he represents a threat to the establishment and, if you know anything about history, the establishment doesn't go down without a fight.
Stay tuned.
Tom Liberman