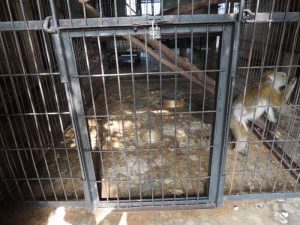 Most of you may not realize it but the United States Department of Agriculture is in charge of enforcing zoo regulations and citations on over 10,000 zoos, circuses, breeders, and research facilities. They are now in charge of, for some reason, inspecting and citing for violations of zoo regulations the aforementioned 10,000 locations. Zoos obviously have nothing to do with agriculture and yet, here we are.
The reason I know about this is because, as a Libertarian, I tend to have friends on both ends of the political spectrum and some of them are quite passionate. One of my animal activist friends posted a horrific story about an Animal Park in Virginia. To say what was happening to the animals would shock and dismay any decent human being, no matter their political affiliation, is an understatement.
The article focused on the fact that the USDA gave the park a clean inspection just the day before local authorities accompanied by veterinarians and zoologists found the all too human negligence. The problem, according to the article, is that the USDA used to perform comprehensive inspections and issue citations regularly. This has been curtailed under the Trump Administration and led to the problems.
What the article also mentions, but glosses quickly over, is that the animal park in question was cited frequently by the USDA under previous administrations but it is clear, despite these admonishments, the place was still a disgusting and vile animal torture chamber. Basically, they paid the fine, and went on their merry, torturous way regardless of any zoo regulations.
My home state of Missouri is well-known for our many, and oft poorly run, puppy-mills this despite all the zoo regulations in effect. Not a month goes by without one of my local friends posting an article about some horror or the other perpetrated by the owners of such facilities.
What it took to actually address the issue was local government along with expert and caring individuals like my friend, coming in and performing an inspection. The place is now closed and the proprietors face numerous criminal charges. The federal government just looks to these zoos, circuses, breeders and research labs as revenue generators and zoo regulations are the way to collect.
I'm all for treating animals ethically but I'm certain when we trust the Federal Government to do it, we simply apply a placebo to the problem. The animal horrors continue unabated.
I understand the need for government oversight and without the aid of local law enforcement, people like my friend would be unable to effectively prevent the owners of such establishment from continuing their nefarious activities. It is when the two work together, at as local a level as possible, that real change can be affected.
Let's imagine local government allows animal loving law enforcement officers to inspect all such facilities with camera wielding animal experts and the videos are posted far and wide? Would we not see far better results than a simple citation from the USDA? Would we also not create an alliance between two groups that normally see each other as the enemy? That's a win in my book.
When we give power to Federal Government to address a wrong, they generally fail to do much. They simply charge the offenders money and come back the next year, hand out, for more.
Tom Liberman