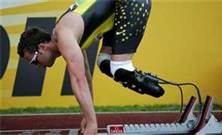 The 2012 London Olympics are fast approaching and there is a fascinating situation unfolding. A South African by the name of Oscar Pistorious is being allowed to compete in the sprint competitions. Being allowed? Yep, he's a cyborg! His legs were amputated at a young age and he uses artificial devices called blades in their place.
This is interesting because it won't be long before athletes such as Pistorious are defeating their human counterparts with regularity. It wasn't that long ago that a chess computer first beat a master but now they present a huge problem with the potential to cheat in chess competitions. Chess computers are better than human players.
It doesn't take much extrapolation to realize that engineering technology will soon make legs capable of more efficient movement than human legs, arms stronger than human arms, and hands steadier than human hands. What does this mean for competition? It means that men and women with artificial attachments will defeat those who are completely human. Eventually but not immediately on the horizon are artificial implants wherein someone might have enhanced engineering but pass themselves off as completely "natural".
Whether to allow such artificially enhanced humans into competitions is but one question we must face. Imagine a world where your child cannot compete for a job without artificial enhancements. Imagine a world where genetic engineering manufactures smarter, faster, better, people. There is an interesting movie called Gattica worth a watch but I'm going to dial this one away from science fiction and into science reality.
Oscar Pistorious. Should he be allowed to compete in the Olympics against people without engineering enhancements? The Olympic committees says yes now, but the problem is only going to become more severe in years to come. I'm going to agree with the Olympic committee which argues that the technology, as it exists today, is no better than human legs and therefore he has no advantage. However, it's clear to me that this issue will soon be resolved in the other direction and engineering will provide an advantage. At that point I'm not sure what can be done. Amputee athletes will want to compete not just in the Olympics but in leagues for children all the way up to and including professional sports. Is it right to deny them the joy of competition? I don't think so, but each one of them will replace another competitor, one who is not enhanced. Will we see young athletes opting to amputate their legs for the sheer purpose of getting better ones? It's not so far-fetched as you might imagine.
I'm afraid I offer little in the way of resolution to this issue. People will always want to better themselves and trying to legislate against human nature is an exercise in futility. Brace yourselves for what is not too far in the future.
Tom Liberman
Sword and Sorcery fantasy with a Libertarian Twist
New Release: The Hammer of Fire