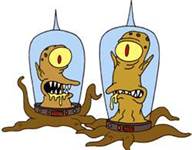 I was out and about being social last night which is unusual for me (thanks AU). While out I happened to be speaking with a pair of Republican leaning friends although the conversation would have been virtually the same with friends leaning towards Democratic candidates. I was told, once again, that I'm throwing away my vote when I cast it for Independents like Gary Johnson.
I'm not and I'll tell you why.
The argument that I'm throwing away my vote goes pretty much like this. You're (me) voting for someone who has no chance of winning and therefore your vote doesn't really count.
First: all votes count as one vote regardless of who wins or loses. The winning vote doesn't count more than the losing vote nor does the vote for a candidate who wins by a huge margin. They all count the same.
Second: I think that when I vote for Independent candidates I'm voting for the person I want to win, not the lesser of two evils.
Third:  If independent candidates start to get enough votes then they will eventually become viable candidates. If I simply vote for the lesser of the evils; evil wins and independents never gain a foothold.
Fourth (and most importantly): If you vote for President Obama or Governor Romney you are voting to destroy the United States of America. Yep. You heard me right. You are voting for a candidate who will tell you what you want to hear and continue to drive this once great country to ruin all the while.
So, don't tell me I'm throwing my vote away because I choose to vote to return this country to glory while you choose to vote for its destruction.
I think I've made my point. Tell me if you agree or think I'm a pompous jerk in the comments!
Tom Liberman
Sword and Sorcery fantasy with a Libertarian Twist
New Release:The Hammer of Fire