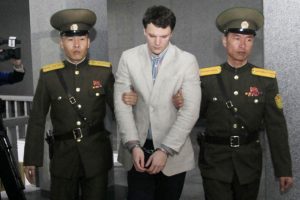 I'm sick of it. Sick. We are a nanny nation. I'm reading comment after comment about the terrible death of Otto Warmbier and virtually everyone seems to think they know better than Warmbier, they know better than his parents, they know better than the travel agency, they know better how to lead everyone else's life.
I've got advice for each and every one of you. Why don't you try to lead your own miserable life and stay out of everyone else's business? Is that too much to ask? Really? You get to tell Warmbier how stupid he was for going to North Korea. You get to tell his parents there must to be an autopsy. You get to push your political agenda by using the death of this young man. You're sick. All of you! Sick, sick, sick.
When did we become a nanny nation? When did every single decision anyone makes become our business? People are concerned the United States is becoming a Nanny State where the government feels compelled to tell us how to conduct our lives? Well, look in the mirror. Just look and tell me what you see.
What was your last comment on any news story? Was it telling someone else they were wrong about something? How to go about their business? For whom they should vote? That they are ruining their lives by eating coconuts? Ruining their lives by not eating coconuts? Good grief. Shut up, the lot of you, leave people alone.
Don't get me wrong. I don't mind an informed discussion. Here are the facts of the case and the opinion that I've arrived upon. What do you think? That's reasonable. But no one does that anymore. It's all somebody else's fault. It's all shouting and yelling and feeling superior because we're certain we would do things better.
Are you so insecure with your own life that you have to tell everyone else how to live? Because that's what it is. If you're posting stories about how wrong and stupid other people are, it's because you have no confidence in yourself. You might think you do, but the proof is in the proverbial pudding. If you actually had confidence, you wouldn't feel the need to tell everyone else how to go about their lives, all the time!
How about you leave the Warmbier family alone to experience their grief in the way they choose to do so? Is that so much to ask, you miserable excuses for human beings?
Tom Liberman