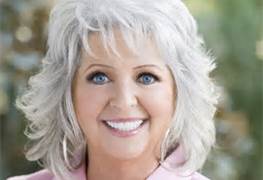 Yes, you see correctly. I don't use the euphemism "n-word" when I mean to say nigger. Am I worse than every newscaster, magazine writer, blogger, and general person who says "n-word" when they mean nigger? Read this blog and then tell me what you think.
Paula Deen admits to using the word nigger when referencing black men. Nigger is a vile word with a vile meaning. Because she has used the word in conversation she is paying a significant price. Today I want to examine her use and understanding of the word, the public reaction to said use, and the lawsuit that brought it all to the public's attention.
Paula runs a very successful restaurant that grew into a Food Network television show which spawned a number of food related books, magazines, and other endeavors. She has made a lot of money because of her hard work and apparently tasty food. I'm not sure I've ever eaten any of her recipes. We can be certain that people like it.
I'm sure you know the story by now but to recap for those of you who, like me, were largely ignoring it up to now, she is being sued by a woman who was offended by the fact that Paula used the word nigger in her restaurant. This employee has bi-racial nieces and nephews and is filing suit against Paula and the restaurant because the employee was personally offended. During the trial it was brought up that Paula planned a "plantation themed" wedding for her brother that would include black servers.
Because of these revelations Paula has lost her television show, her book deals, and many of her sponsors.
I think the word nigger is horrible. When Paula used it in front of the employee the person should have told Paula that it was offensive. Maybe she did, I don't know the details of the case. Paula says the word was used commonly as she was growing up and I don't doubt her for a moment. I've heard the word used in all its ugly connotations a number of times over the years and I always tell people I don't like it, please don't use it in my presence. If they continue, they continue, I can't control them. I can stop being around them, an employee doesn't have this luxury.
Is Paula an evil person for saying nigger? It certainly doesn't reflect well on her. Does she discriminate against black people? Apparently not. Does she hate black people, the evidence seems to be no. Does the idea of a plantation themed wedding including all black servers seem in poor taste, you bet.
What bothers me most about the entire story is the prevalence of the "n-word". If people didn't say the "n-word" when they mean nigger then maybe Paula, and a lot of other people would have gotten the message.
Nigger is a nasty term meant to convey laziness, lack of trustworthiness, thieving character, and a no good lay about. It's applied to black people because that is the stereotype associated with them, used to explain why they could be kept as slaves against all human decency. Paula, when you say nigger, that's what you are saying. If someone had told Paula that twenty years ago I bet she would have stopped using it right at that moment. She seems like a pretty decent sort who just didn't know the ugliness of the word she was using.
I know it seems strange to suggest that she didn't understand the meaning but I think that's often the case. When we say the "f-word" and the "c-word" and the "n-word" instead of "fuck", "cunt", and "nigger" we hide the ugliness of the word. We hide its true meaning. People say nigger who don't mean nigger. Not to excuse Paula, she said it, she should have known what it meant.
If people want to remove themselves from Paula's life; be they advertisers, networks, publishers, or just an average person, that's their right. I don't begrudge them for a moment.
However, from what I can make of this entire episode, Paula just didn't understand how awful the word nigger truly is, and she's not alone. If we in society would stop saying the "n-word" and start saying nigger, I think people like Paula would understand. When we say the "n-word" we are hiding behind semantics. We are saying nigger without saying it and it truly causes confusion.
What I would respect the most from Paula was if she stood up in her next interview and said nigger. Tell us she said nigger. Tell us she knows the meaning of the word nigger. Tell us she's sorry for using the word nigger not only for the word itself but the meaning behind it. That she knows nigger is an awful word. That she understands why it's a terrible thing to say.
And I would respect her advertisers, sponsors, and friends if they then all forgave her.
I don't think it will happen. I think everyone will continue to say the "n-word" and I think that's too bad. No one knows more than me that words have power. Do we not tell German children about the holocaust because it's so awful? Just the opposite. Here is what happened. This is what a word means. We, as a nation, enslaved another group of people. We made them seem sub-human. We applied words like nigger to them. It was awful and terrible. We should be ashamed.
When you call someone a nigger you are saying you don't think slavery and everything associated with it was a terrible thing. If you mean that, then go ahead and call a black person a nigger. If you know what it means and hate everything associated with it, then explain to other people what the word really means. Don't hide the word. Bring it out into the bright sunshine. Expose it to the world for what it truly is.
Evil grows in hidden corners, away from plain sight. It shrinks when exposed, when ridiculed, when attacked by good people who are not afraid. Other people are encouraged to be good themselves, to not use vile words with terrible meanings. The world becomes a better place. I'm all for that.
Tom Liberman
Sword and Sorcery fantasy with a Libertarian Twist
Current Release: The Sword of Water (it's honestly a fun and easy read, just ask my mother! $2.99)
Next Release: The Spear of the Hunt