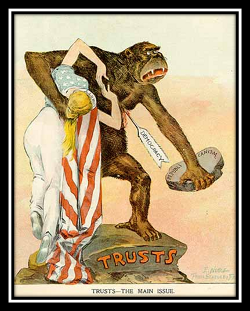 As a Libertarian I'm largely against government interference in the freedom of people to do as they will. There are limits and one of those is anti-trust laws. These laws are put in place to make sure that competition is waged on a level playing field. This is an area, in my opinion, that separates Libertarianism from Anarchism.
In any case, the purpose of this blog is to talk about why anti-trust legislation is needed. To start things off I'll talk about the definition anti-trust. I'm going to generalize and a full perusal of the anti-trust Wikipedia article and its linked definitions is a worthwhile study.
Anti-trust laws are designed to stop things like collusion and cartel. Collusion is when a group of people agree to limit open competition. It is usually marked by uniform pricing among competing items. A cartel is an open agreement to set prices at a certain threshold.
A second thing they are designed to prevent is market dominance and particularly monopoly. Both of these situations occur when one supplier controls such a large percentage of a particular commodity that they can set a price as they choose rather than being forced to offer a competitive price by competition.
Acquisitions are also under the purvey of these kinds of laws. If one company attempts to purchase all its competitors then monopoly or dominance ensues. Both of those things hurt the consumers ability to get product at a fair price.
There are host of other anti-competitive practices that include things like dumping; wherein a company forces competition out of the market through cheap pricing, refusing to deal; when a group of companies refuse to purchase from a particular vendor to put them out of business, dividing territories; when two or more companies agree not to compete with one another.
In my mind we need anti-trust laws for the same reason we need laws in the first place. It is human nature to take advantage of a situation in any way possible. One of the pro-capitalist arguments is that it caters to human nature and I agree with this but we must also take human nature into account when we make our laws. Anti-trust laws and general regulation hopefully provide a level playing field against unfair practices that hurt capitalism and the consumer.
If we can apply broad regulation that levels the playing field then the business that is operated most efficiently wins. I think it is important for the business community to understand that some regulation is required to prevent unethical people and businesses from dominating the market and putting all the ethical people out of work.
I'm almost finished here but I think I need to explain what I mean by broad regulation. I don't recommend legislation that takes every possibility into account because that sort of law is doomed to failure. What I mean is more general types of regulation that simply allow each company to play on the same field.
We have laws that make sure manufacturers put the quantity of material in the food container on the package. This regulation is easy to comply with and understand. That's the goal of all regulation, simple and cheap to implement for the producer, easy to understand for the consumer. It's not always easy to achieve but I do think it is necessary to allow capitalism and the free market to thrive.
I welcome disagreement as always!
Like, Tweet, Stumble, LinkedIn, and otherwise share if you think this is something that might interest your friends.
Tom Liberman
Sword and Sorcery fantasy with a Libertarian Twist