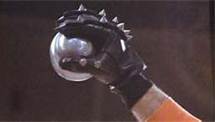 I'm sometimes accused of being a bit of a downer and I can see how my relentless Libertarian, Randian opinion along with all my philosophical rhetoric might become a bit tiresome. I thought I'd break things up with Movie Mondays for a few weeks at least and list some of all-time favorite movies.
Of course, I can't be completely frivolous and I'll talk about why the movies I enjoy often have a Libertarian spirit. We'll start with my absolutely favorite movie of all time and one that is right up the Randian alley of objectivism.
Rollerball (the 1975 version). I prefer to pretend the remake never happened. There was a remake? Really? Never knew that. Was it any good?
Rollerball tells the story of Jonathon E, played by James Caan. It is a dystopian future in which corporate entities have taken over the world and brought peace, health, and comfort to the masses at the expense of freedom. One thing about the movie I find interesting is while it promotes the ideas of Objectivism and Ayn Rand it is a world that is exactly the opposite of what she feared in 1950's communist leery America. She feared communism not corporate corruption although she certainly recognized that thugs could take leadership roles in place of true people of achievement.
In any case, the point of the game of Rollerball is to show the futility of individual action. This is demonstrated by the sheer difficulty and violence of the game in which one man cannot excel long without being incapacitated by opponents. Jonathon E is the exception to this rule as he has become the one true superstar as he leads the Houston (Energy) team to victory. It is decided that Jonathon must be stopped and the movie is about the corporations trying to make that happen in various ways.
It is a raw film. In one scene a woman is sent to Jonathon as a lover but she is truly a spy and agent of the corporations. Before he leaves for the Tokyo game where the rules have been changed to promote more violence and hopefully the death of Jonathon this woman tells Jonathon that she is "supposed" to go with him. He throws her down and slashes her upper cheek with the spike on his Rollerball glove. This sort of violence against a woman is both shocking and telling about Jonathon. He is a man who will take enemies on without subtlety. Then, fearing that his private helicopter is sabotaged he flies with the team to Tokyo.
Eventually the corporations try to bribe Jonathon with his ex-wife and she pleads with him not to play in the final game because the rule changes have ensured that everyone will be maimed (no time limit to the game). She argues for the corporations with this line:
"But comfort is freedom. It always has been. The whole history of civilization is a struggle against poverty and need."
Jonathon replies:
"No! No… that's not it. That's never been it! Them privileges just buy us off."
Clearly a marker of the world we live in today.
Jonathon understands that individual achievement is what drives a society forward. One man or one woman with drive, spirit, and ideas. Sure, they form alliances and teams but it is the power of the individual that makes it all possible. Jonathon realizes that and so he goes on.
In the end Jonathon emerges triumphant by doing the one thing that can win the game. I'll leave it to you to see the movie.
Tell me your favorite movie, and why, in the comments!
Tom Liberman