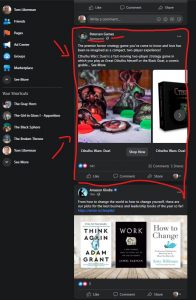 The Rage
I recently placed several Facebook advertisements for my new serial stories on Amazon and was surprised by the backlash from some who saw the ads. The general thoughts indicated to me that these folks hated that my Facebook advertisements were on their wall.
I'm quite interested in what I found when tracking back to the people expressing their rage, usually in the form of, shall we say, colorful images posted on the wall of The Adventures of Stultafor Milbegrew. Almost all of them seemed to be opponents of Socialism with a large majority supporting one particular political party.
Facebook is Capitalism
The problem, for the ragers, is that Facebook Advertisements are the embodiment of capitalism. If you want to remove all the ads then you remove all revenue. Without revenue Facebook either must go to a pay model or become a government run business that relies on tax dollars to provide you with an ad free experience.
The very people railing with those aforementioned colorful images are actually espousing against capitalism, if not outright supporting of socialism.
Why My Ads
Another area of great confusion seemed to be in the placement of Facebook advertisements on the wall of those expressing outrage. The general sentiment indicated the person complaining imagined my advertisement took up space on their wall.
The problem with this line of thought is the spot on the wall is a placeholder for an advertisement, if not mine then someone else's. There will always be Facebook Advertisements taking up those position on your wall, on my wall, on all walls. Having said that, none of your friends see ads on your wall. Which is another common point of confusion among those who express themselves so forcefully to me.
The only way to get rid of those ads is to convince Facebook to change to a pay portal model. Or simply ask the government to take it over and run it with tax dollars.
Why Such Rage?
I find the confusion about the issue of Facebook Advertisements to be quite interesting. I suspect the complainers are not bothered by television advertisements. That thirty second spot on your favorite show will always be an advertisement, it will never contain content. It's simply a placeholder for whichever advertiser spends funds on it.
There is something personal about my wall on Facebook. It is mine, even though at some level I think even the most vociferous complainer understands it really isn't mine at all, but Facebook's. That they allow me to use that space in order to sell advertising revenue.
Conclusion
It's a choice you have, my friends. Either the advertisement of a little guy, that's me, simply trying to get people to read three free serial stories and hopefully purchase more or a big company with something larger to sell.
And, seriously, the stories are short, easy to read, and funny. Try the first three for free and if you think I'm wrong, I can take criticism!
Tom Liberman