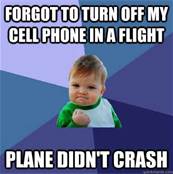 Please power down all electronic devices until we reach cruising altitude. Why do we have to do this? Because someone figured that electronic devices might interfere with avionics. Has an electronic device ever interfered with avionics? Not that anyone can prove. Have they done plenty of tests to try and prove that electronic devices interfere with avionics. They sure have and the results are not surprising. No correlation. Do pilots use their tablets in the cockpit? They sure do. Are we losing many hours of productivity (and game playing) because of the ban? That's an affirmative. Are there anecdotal accounts of a device being correlated to a problem, yes, but they can't be reproduced in the laboratory.
This is one of those situations where someone got an idea and it spread throughout an industry despite the complete lack of evidence that the idea had merit. Sometimes just because something sounds good doesn't mean that it is right. I'm not opposed to being a little cautious when it comes to passenger plane service and the original supposition seems to have merit. However, when in study after study they cannot cause an electronic device to interfere with avionics I think the point has been reached where the ban needs to be rescinded.
While I do think that the FAA and the FCC are generally acting in what they think is the interest of safety I also suspect a more sinister motive. They just like telling me what to do. You can bet my Libertarian principles rail against that one. I really don't mind a little crowd control to keep the unruly in line and I appreciate a traffic officer who keeps the cars moving when the lights are not working. I don't like a petty dictator who tells me what to do not for the general welfare but because they enjoy the power trip. I think we've reached that point.
Originally the ban was all about money. Airlines used to make a lot of money from in-flight calls on their services. Nowadays we can call during flight so that little cash-cow is gone but old habits die hard. Europe is already starting to allow phone operation during takeoff and landing and there have been no incidents.
Basically, there used to be financial incentive to ban cellphones and there remains a bully mentality that forces people to turn them off. It needs to stop. This sort of behavior is a microcosm of Ayn Rand's philosophy of objectivism. I'm not opposed to rules, to civility, but I am opposed to rules solely designed to inconvenience. Rules designed to part me from my money. Rules created by the small-minded so they can feel better about themselves.
I leave you with Mr. Emerson: A foolish consistency is the hobgoblin of little minds, adored by little statesmen and philosophers and divines.
Tom Liberman
Sword and Sorcery fantasy with a Libertarian Twist
Current Release: The Sword of Water ($2.99 for 300 pages of swashbuckling adventure, that's too good to pass up!)
Next Release: The Spear of the Hunt