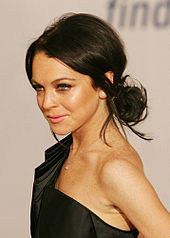 One of my Facebook friends mentioned the Lindsay Lohan appearance on the David Letterman show and I paid only passing attention to the event. I've been thinking more about it over the last day or so and thought I'd write a post on the subject.
Lohan has made a series of bad decisions in her life that have led her to the trouble she currently faces. In the end we are responsible for our own decisions and to that point my thinking would be that if she doesn't like where she finds herself in life that she has no one to blame but herself. This is, I'm fairly certain, true … to a point. Certainly her parents and peers deserve some blame but what I want to examine today is the culpability of those of us who drive the story, who click the links, who watch the show, who direct the flow of money.
Many people made money from Lohan's appearance on the Letterman show. Certainly the network directly through advertisement. Letterman benefits when ratings are high and his earning potential rises. People who enjoy watching other people destroy their lives benefit because they watch a high-profile actor lurch from one disaster to the next. Lohan herself gains some benefit from the publicity that continues to generate acting opportunities for her; although there are certainly many negative results to her behavior as well.
I want to examine that last point in greater detail. When a person smokes a cigarette, has a few drinks, procrastinates writing their fifth book, or otherwise behaves in a way that is not immediately detrimental but in the long-term effects the success in their life they have made a decision. Smoking a cigarette will not kill anyone. Taking another six months to write my book will not change my career path all that much. Eating a piece of cake, not asking that saucy girl out, saying something grumpy at work rather than smiling and being cheerful; these are all decisions. Our lives are nothing if not a series of decisions. These decisions add up to determine the course of our life.
Lohan has been making bad decisions for a long time now and each one contributes to the condition she finds herself in now. I don't want to devolve into a debate about determinism and I certainly attribute a large part of the blame to Lohan herself.
However, is some of what is happening to Lohan my fault? I cannot deny that I feel some sort of superiority as I watch a talented young woman waste her potential. I would never destroy myself that way, I'm better than her. I've searched her image and watched her morph from a stunning beauty to something far less and felt a strange satisfaction with myself. I've read reviews of her latest projects and newest revelations of self-destructive behavior and it made me feel better about myself for some reason, probably because I'm not nearly as a good a person as I think I am.
Is it in our nature to watch train wrecks? Do we as a species yearn for such things? Is Lohan's behavior some sort of self-induced Truman Show? Is her real life just a big movie made for me?
I can't help thinking that our species will be mired in this sort of behavior until we can only want the best for ourselves and for everyone else. When I want every actor to give their best performance every time. When I want every athlete to play their best even if they are playing for an opposing team. Is this sort of thinking even remotely possible? What sort of world would we live in if we only wanted people to do their best? Would Lindsay Lohan have a much different, better life in that world?
What limits would be erased if we all rooted for and helped each other even while competing? I'll do my best, you do your best, someone wins, but in the long run, we all win.
Tom Liberman
Sword and Sorcery fantasy with a Libertarian Twist
Current Release: The Sword of Water (buy it today, it's inspiring)
Next Release: The Spear of the Hunt