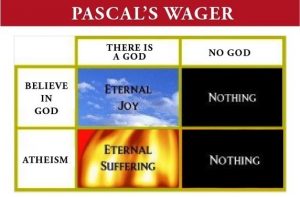 I was watching my favorite Atheist Based show, Atheist Experience, when they once again took on the topic of Pascal's Wager. For me it all comes down to integrity. But, I'm getting ahead of myself. What is Pascal's Wager?
The idea is an interesting study of probability and decision theory. The premise is that a belief in god will bring an almost infinite reward, eternal happiness in heaven. If, on the other hand, you do not have such belief, you suffer eternal damnation. This is where the wager becomes a true bet rather than a religious argument. What is there to lose or gain in belief or lack thereof?
Let's say you could wager a penny to win a million dollars. No matter how long the odds of the bet, you'd most likely take that gamble. It's essentially the same thing as spending a dollar on a lottery ticket when the reward is hundreds of millions of dollars. The single dollar you spend has no real effect on your life and the reward is so enormous, it's worth taking.
Even if you are almost certain god does not exist, the reward of believing and the punishment for not believing makes it silly to do anything else. Why not believe? You don't have to go to church, you don't have to express that belief to others, your life doesn't really have to change all that much. You just have to believe to get the reward and barely give up anything at all.
Well, that is if you don't value your integrity. For me the loss in believing is that I'm lying to myself, I'm lying to my family, I'm lying to all my friends. I don't believe in god. I think the very idea is rather silly. I am certain there is no heaven and if it existed, I wouldn't want to go as it is run by a misogynistic, murdering, despot.
If I decide to believe in god in order to get a reward although it is against everything my rational mind derives; I have no integrity. What won't I do? Lying, stealing, cheating, raping, murdering are now on the table, as long as doing so likely benefits me. Why wouldn't I kill my parents to get the money I'd inherit, particularly if I was certain to get away with it? Here is some news for you; I wouldn't seek to murder anyone, or rape anyone, or steal from anyone; no matter how certain it was that no one would ever find out. Because doing that to other people is wrong, just as if they did it to me.
Pascal argues that believing in god doesn't hurt me in any way. That is where he is wrong. Stating that I believe something that I do not destroys my own sense of self-worth. I would be living a lie. My integrity would be gone. If I were to do such a thing I would loathe myself for the rest of my life.
The idea behind the wager itself is worth discussing. The concept of risk-reward is something you should think about when making decisions in your own life. What have I to gain and what is there to lose? Those are questions that should be answered before making major life decisions.
In this case the potential loss is greater than the reward, at least for me. The question is valid, I hope my answer is clear.
Tom Liberman