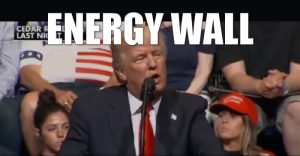 President Trump made building a wall between Mexico and the United States a big part of his campaign although actually funding it has proved difficult. He recently suggested putting solar panels on the wall. A solar wall as it were, so that it could pay for itself. That's the thought process I'd like to examine. Yes, the thought process.
What's the first thing you think about when using solar panels? For me, what comes immediately to mind is the idea they have to face the sun. Unfortunately, by far the greatest surface area of a wall is going to be facing away from the sun. A wall, by its nature, is up and down with a narrow top. Now, it's certainly possible to make a wall of a greater thickness so solar panels can sit on top of it, but that's going to dramatically increase the amount of material required for the wall, which of course, adds cost.
There is also the possibility of attaching angled panels to this solar wall but that would seem to largely defeat the purpose of a wall, to keep people from being able to cross over it. If there is a big, angled roof to the thing, it would seem that scaling it would be made significantly easier.
Anyway, let's imagine there is some way to attach the panels to the solar wall without greatly increasing the cost of the base material of the wall while not inhibiting its stated goal of preventing people from crossing over from Mexico.
How do we get the generated power from the power source to the people who need the energy? That's an enormous problem with all power plants. You have to be able to transfer the energy to users. This is done through infrastructure. Traditional power plants are built in a single location so all power lines can emanate from them. With a solar wall, this is not possible. Basically, your power generation is occurring over a huge area. So, in addition to the panels the entire infrastructure must be created to take that power and distribute it. The cost of this is something I'll leave to your imagination.
And this is what I'm talking about. These are thoughts that I'm almost certain didn't even begin to occur to President Trump. He doesn't think things through. That's not a quality I admire in anyone. Let alone the President of the United States.
Honestly, this is what I imagine. "You know, President Trump, we're having a terrible time getting financing from Congress to build that wall. You know what would be cool? Solar panels on it!"
Trump, "That's a great idea, hey, when's lunch?"
Then at the next opportunity Trump touts the solar wall as a fully realized possibility without having given a moment's thought to the practicality of building the thing. I'm serious here, when you heard Trump talking about the solar wall what was your first thought? Mine was, interesting idea, but how is that going to happen? Yet I watch people cheering madly an idea that it seems to me is obviously impractical if not impossible, and certainly not cost effective.
I suppose this is the world in which we find ourselves. Sigh.
Tom Liberman