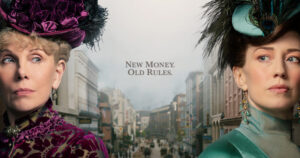 I just finished watching episode four of The Gilded Age and the episode editing struck me with the force of a runaway locomotive. It's a problem I've noted in previous reviews, but this week's episode editing lacked any semblance of a deft touch.
Film editing is the process of turning a bunch of scenes into an episode. We tend to think of it more in a movie than a television show but there is no doubt a good editor can make a profound difference in the flow of a television show as well as feature length film.
It's a difficult art to perform correctly and even describing why the episode editing failed so abysmally in the Gilded Age is not easy for me to illustrate. Nevertheless, I shall try.
From Jumbled Scenes to Episode
When we watch a television show we see it in sequence and we generally don't give it much thought. There is someone who does think about it a great deal. The film editor is given a bunch of scenes and must stitch them together in a coherent story that at least attempts to follow the original script. It's not an easy job.
Each episode is really just a series of scenes, many of them unrelated to one another. In a show with a large cast and many competing storylines, like The Gilded Age, this is even more difficult. The film editor is trying to piece together a strong narrative that emotionally captures the viewer. If she or he does it right, the audience becomes entranced, we watch the scenes flow by and forget they are separate entities. We see a smoothly moving river.
When it's done poorly, we lose immersion, we are yanked from one place to another without a strong thread to keep us attached.
I'm not saying each scene has to be directly related to the previous but I am saying you don't want to ruin the mood, the emotions, the feelings generated by one scene; by following it with something out of place. Perhaps an example is necessary.
Poor Bridget
Bridget reveals her repeated rapes at the hands of her father, and how she hates her mother even more for allowing it to happen. That is a powerful, tragic, horrific scene. It is immediately followed by Peggy's lunch with her parents and Marion's ludicrous present. Pardon my language, but what the fuck was the film editor thinking? I cannot think of a worse scene to follow such a deeply disturbing moment.
There is no connection, no continuity, it's almost like we're supposed to forget what we just witnessed with Bridget. That Marion's white privilege is a more egregious offense.
I can think of several scenes to better follow up the horror of Bridget's confession. The scheming maid jumping into George's bed contrasts a sexually emancipated woman to brutalized Bridget. Perhaps a scene with Agnes van Rhijn talking about the abuse she suffered in her marriage.
The profound emotional attachment I briefly felt for Bridget was swept away like water under a bridge. See ya.
Bertha's Snobbery
Another scene begging for contrast and comparison is when Bertha puts down Raikes for his lack of money. Why not precede this with a scene where Bertha herself is snubbed for her lack of social standing. Showing that she is guilty of largely the same thing she rails against? Opportunities like this are readily available in any drama. Good dramas take advantage of them to keep the momentum from one scene going to the next, through the entire episode.
Lack of Flow
The episode editing in The Gilded Age shows us scene after scene but they have no connection, no flow. I'm don't have time to absorb what just happened when a new thing happens. I'm not saying each scene has to be directly related to the previous but there needs to be a thread for the audience. We see little to nothing of this in The Gilded Age, no continuity, and thus a lessened impact, no emotional attachment to the characters.
It's as if the episode editing was done by a random number generator rather than someone concerned with telling a cohesive and compelling story. The transitions are so jarring, I'm immediately taken out of immersion, my mind tasked with recalibrating and focusing on something entirely new, again and again.
Conclusion
Good episode editing isn't easy, I don't pretend it is. Someone makes difficult decisions to whittle down many hours of scenes into a single episode. It seems like no one is even trying in The Gilded Age and that's a shame. So much potential is being wasted in any number of ways, as I've discussed in other episode reviews.
Tom Liberman