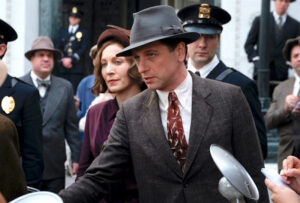 I just finished the first season of Perry Mason on HBO and largely loved it. I think it's pretty easy to get into a rut writing negative reviews. Such articles definitely get more interest than the ones that wax poetic about a show.
Therefore, it is with great joy I write this review about the modern interpretation of the old classic, Perry Mason. The Perry Mason novels and television shows date way back to his debut in the 1933 pulp fiction novel by Erle Stanley Gardner.
After a famous radio series, a successful television series run, and lots of movies we now arrive at an HBO series. Let's get into it!
What is Perry Mason?
The first season of the show covers a period of time before Perry Mason became a lawyer and his transition into that role. He is a private investigator working for E. B. Jonathon played by John Lithgow with his usual brilliance.
Jonathon takes up the case of a murdered baby and uses Perry Mason, played energetically by Matthew Rhys, as the lead detective to determine what actually happened.
Why is it Good?
Determining why a show is good or bad is generally pretty easy but explaining why it is so can be more challenging. I've written before about what makes a show good or bad and Perry Mason hits all the good marks.
The Acting
The acting is generally superb with Lithgow, Chris Chalk as Paul Drake, Shea Wigham as Pete Strickland, and Tatiana Maslany as Sister Alice standing out. Not to say Rhys as Mason, Juliet Rylance as the iconic Della Street, and Andrew Howard as a disturbed and violent police officer are not exceptionally good as well. Everyone from the main players to the bit parts sells their role. I'm not going to mention all the excellent performances but if you look up the cast, you'll not see a single actor who failed to convince me.
The Writing
The writing is equally good and allows the actors to really set their teeth into all of the roles. The district attorney, the judge, the accused criminal, all fantastic roles and all played superbly. There were a few moments where I thought Perry Mason himself was portrayed as a bit too hot-headed and irrational but I understand that was done to set up the ending when he transforms into the cool-headed and rational Perry Mason we all know from previous media.
The Sets
Incredible. From matchbooks to motor vehicles to radio microphones. I'm astonished at the craftsmanship of the set designers. The attention to detail. The clothes. Everything looks real to me. Maybe someone with a better eye than mine can find a few anachronistic things but I noticed nothing.
The Music
As is always the case, less is more with music. We don't need the music to tell us a scene is dramatic, sad, happy, or anything else. We should know that from the scene itself. The music is there not to explain but to enhance. If I ever find the music overbearing then I know there's a problem. Didn't happen in Perry Mason.
The Love Stories
There are several love stories in Perry Mason but they don't interfere with the main plot, they enhance it, they are not the focus. Often times the love interest can take over. In this case Perry's affair with the airfield owner is gritty and real. It gives us insight into Perry himself. The affair of between Emily Dodson and George while integral to the story takes place off screen. Della and her girlfriend are there but not in your face and over-the-top Woke.
The Story
The story unfolds with each episode at a leisurely but satisfying pace. We learn more and more. Each individual episode tells its own story, introduces ideas, characters, themes. There is no rush to tell us things, nor are important facts hidden from us in order to create a twist ending. We learn, with Perry Mason, the horrible truth although in the end he cannot prove it.
The Ending
The ending isn't completely satisfying. It doesn't try to wrap up all the loose ends. One feels for poor, abused Sister Alice and for her replacement Emily; but it's not all joy and happiness. The ending isn't the end but it's enough to leave me quite satisfied and yearning for more.
A nod to the first novel at the end was a nice touch.
Conclusion
Good crime drama done right. I eagerly await season 2.
Tom Liberman