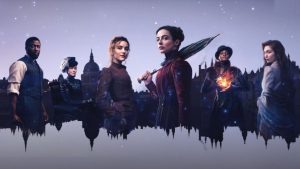 An Objective Review of The Nevers
The Nevers is a new show on HBO and I'm right at the center of the demographic audience for whom it is intended. That's a fancy way of saying I'm a nerd with money to spend.
Not long ago I wrote a review of All Creatures Great and Small and Miss Scarlett and in it I discussed the ideas of reviewing a show for its objective good or bad traits rather than any baggage associated with the show or those who are involved in it.
If ever a show needed an objective review, it's The Nevers although I'm not going to go into reasons why it is necessary, trust me on the subject. Most review are going to be at least partially if not mostly influenced by said baggage. None of that here.
What is The Nevers?
The Nevers is a much-hyped show on HBO which follows the exploits of a group of late nineteenth century Londoners dealing with the results of an unexplained phenomenon that left a number of people touched, that is to say, with special abilities and traits.
It's a nerdalicious show with all the elements that have intrigued me since the early days of such shows which arguably began with the underrated Misfits of Science. To say that I'm a fan is to damn with faint praise indeed. I eat this stuff by the gallon and beg for more.
The Review
Acting
The ensemble case, and I do mean ensemble, for the premier episode did an excellent job for the most part. It doesn't hurt that lead actor Laura Donnelly is an athletic, dark-haired vixen with more than a touch of crazy in her eyes. I have a weakness for that type. Still, trying to ignore my rapidly beating heart, I thought she was believable in the lead role as Amalia True.
Ann Skelly as Penance Adair was also excellent as a sidekick. She brought a sweetness to the role that seemed to shine through. The secondary characters all performed well. Amy Manson seemed over-the-top as the murderous Maladie and I thought hers was the weakest performance although she had little to do so I'll withhold judgment.
I have only one quibble with the acting and it's probably more with the sound team and the writing than the actors. I struggled throughout to understand the dialog. Their accents along with a lot of mumbling made it really difficult to follow.
Characters
The characters were all quite interesting and the opening vignette where we met them was relatively nicely managed. It's not easy to get in so many backstories so quickly and I felt somewhat shortchanged, particularly in regards to Amalia who attempts to commit suicide but why?
In addition, Amalia's Touched power is precognition but she somehow has ninja skills and is a martial arts master. I'll talk more about this in the writing section.
Likewise, the Beggar King was introduced almost as an afterthought and attempting to make him menacing with so little to do didn't work well for me. Lord Massen was handled particularly well as the big baddy. They did a nice job of explaining, at least partially, his hatred of the Touched in that his daughter collapses after the inciting incident.
Mary Brighton's introduction seemed very forced as well and I just didn't care about her at all even in the climactic opera scene. I think the big problem was too many characters too quickly. There's just not enough time to get to know or care about them.
All in all, I think the characters are interesting and promising.
Writing
In a nutshell, this is where things went wrong. The writing falls into the typical trap of action shows where entire scenes appear out of nowhere, make no logical sense to the plot, and take me out of the moment. By this I mean I leave my immersion and shake my head in astonishment at the stupidity.
Particularly egregious from my perspective is Amalia with martial skills. Why does she have them? It makes no sense. They really needed a third lead along with Penance who has such Touched abilities but I guess the cast was already far too large.
In addition, Amalia's precognition is a real problem in that she sees the future, changes her behavior, and alters the timeline removing what she just witnessed. I kind of have this problem with precognition in whole. I'd like to see her Touched ability give her insight into what to do after the event happens, not prevent it entirely.
From a scene related perspective, when Amalia and Penance went to investigate a touched girl, Myrtle things made little sense. Suddenly, while downstairs with her parents, kidnappers arrive upstairs and an enormous chase scene ensues. The investigation was just an excuse to have the chase.
Now, I will give the writers credit, they tried to explain the coincidence of the kidnapping at that exact moment as a result of the Beggar King giving the same information to the group led by Maladie. Still, I'm not buying it.
The pivotal opera scene made no sense whatsoever, from beginning to end. Why were they there? Maladie was there apparently to capture a Touched girl but goes on a nonsensical rant on stage as a way to introduce her compatriots, I guess. I couldn't follow her dialog at all. Why did Mary start to sing?
It was an enormous hodgepodge of a chocolate mess. Why didn't security rush the stage immediately? How did Hugo Swann only notice the murderous rampage on set when Maladie rushed by with Mary? I mean, he was standing right there for the entire thing.
The weepy dialog between Amalia and Penance after the failed pursuit didn't make any sense at all. The entire scene, arguably the most pivotal in the first episode was baffling.
The writing really killed my enjoyment of what otherwise seems like a promising show. Too bad.
Sets and Costumes
The sets are stunning and believable and the costume design work is absolutely first rate. No quibbles here.
Music
Music is generally a problem in shows of this nature as it grows overbearing and preachy. When should I be afraid? When should I sense romance? Just listen to the volume cranking up. I'm thrilled to say the music was used with a relatively deft touch. The action scenes weren't drowned by the music.
I am happy with the relatively deft touch displayed by the sound team here although they must do something about making the dialog understandable.
Conclusion
I didn't enjoy the show almost exclusively because of poor writing. Many scenes seemed to be setups for action sequences rather than a plot moving device. Everything else was worth watching and I'll keep tuning in for the moment, but we'll see.
Tom Liberman