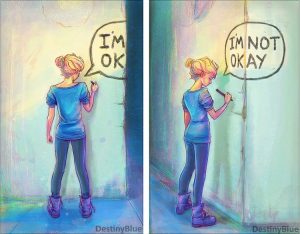 An old friend of mine makes incendiary comments on my Facebook wall and is fond of asking if I'm afraid to see the truth, no, but I am afraid for my friend. My friend is insane. I wrote about Trace Riff and how difficult it is to deal with a friend or family member in this situation so I recognize my limitations. That doesn't stop me from being afraid for my friend.
My friend was a fantastic athlete and I played sports with him in high school. I was a bench warmer and he was a star. He went on to college at an elite level and injuries resulted in team doctors prescribing him serious pain medication. Perhaps this was the start of his descent into madness. Perhaps his brain was wired in such a way as he was prone to such. I'm not sure, I just know he's insane and I'm afraid for my friend.
I'm afraid he'll hurt someone in his madness. That he'll walk into a pizza restaurant and shoot the floor but accidently kill some child. I'm afraid he'll see a family on vacation and see them as some sort of bizarre existential threat to his existence and he'll hurt or kill them. I'm afraid he'll go on some drug-fueled rage and the police will kill him.
My friend is not the only one succumbing to a spiraling descent into madness with perceived enemies and conspiracy insanity at every corner. I have a relative who is the same. I suspect you have friends and relatives who are filled with confusion, rage, and insanity. I suspect all of us are afraid for my friend in one way or another. When I fear for my friend, I fear for yours as well.
I'm a Utopian. I believe someday none of us will have to work. That there will be no money, no want, no need. I believe in Post Scarcity. I think someday those who need mental help will get it. We have not yet reached that day. People are still in need, my friend is still insane, he is not going to get any help despite the efforts of my other friends and his family. He's just going to continue raging and I'm afraid it will end in violence.
I wish I had some encouraging things to say in this post. I wish I saw a happy conclusion to the journey through life my friend is taking. I don't.
I write my novels, I write my blogs, I promote freedom, liberty. That's all I know how to do and it makes me sad I am incapable of doing more. Someday the utopia I envision will be here and your friend, my friend, will get the help she or he needs. Someday.
Tom Liberman