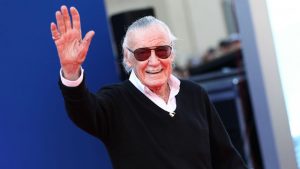 For the last few years a tragic story involving Stan Lee and the demise of his fortune has been sprinkling into the news one depressing story after the next. It reminds me again of why it's so important to have a trusted financial advisor in dealing with your estate. Most people think of long term growth but quick and brutal theft is also possible when working with people of diminishing mental capacity.
Mr. Lee either created or helped create many of the fictional super hero characters for Marvel Comics in the era before they were enormous money-making movie machines. He was paid a regular salary and didn't earn much despite his superlative creative efforts. Later, when the movies came out he did receive his just due.
As is often the case when there is a large amount of money involved, nefarious villains slither into the picture. Not men and women like Doctor Octopus, the Green Goblin, and Black Cat; but everyday people who promise to help but instead plan to steal all the money quietly and without the need for super-powers. They just lie and gain your trust, those are abilities well within the capabilities of the average person who has no conscience.
In the United States it's not particularly easy to get someone declared incompetent so as to protect them from themselves. I discussed this idea in other blogs but the gist of it is that people did so as a way to steal money from others. In fact, many times the person coming to steal your money isn't some stranger but a relative.
This is where it's absolutely vital to make sure you engage a reputable financial company to handle your finances, even if you have a relatively small amount like a few hundred thousand dollars in savings. Yes, you will have to pay that company fees for their services. These services certainly include wise investing which should increase your holdings, but also protect it from those who see it as opportunity. It may seem paradoxical to trust strangers over friends and family when it comes to finances, but when those strangers handle money for a living they are less tempted to steal and more likely to protect.
As we get older we often lose our mental acuity. This is clearly what happened to Mr. Lee and since the death of his wife, who apparently guarded the finances well, much of the money was stolen. Transferred from his estate to those of supposed friends and possibly family members intent on bilking him out of his earnings.
It nearly brings me to tears to see Mr. Lee in such a condition. Paraded around and used by horrible people as they steal his money and whisper lies to a man of diminished mental capacity. Sickened is the word that comes to mind.
It's probably too late for Mr. Lee and his money, don't let it happen to you or the ones you love.
Tom Liberman