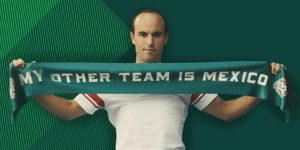 There's an interesting story in the world of sports involving Landon Donovan starring in a commercial that urges United States soccer fans to root for Mexico in the 2018 World Cup. There are fairly many people angry at the former star of the United States Men's National Team and about an equal amount supporting him. I think this story has implications for all of us beyond sport that speaks directly to my Libertarian sensibilities.
The gist of this situation is relatively simple. The soccer, I'm going use soccer throughout this article rather than futbol, team from Mexico is the traditional rival of the U.S. team. The fans of El Tri include a number of hooligans and they have engaged in disgusting and distasteful displays against the U.S. team in the past. There is a great deal of animosity between the two teams. Because of these facts those who dislike or even hate the Mexican team feel betrayed by Donovan and his support for them.
On the other side is the simple reality that the U.S. team didn't qualify for the World Cup this year leaving fans without a team to support. Mexico is our neighbor and many people who live in the U.S. can trace their heritage back to Mexico. These are reasons enough for many to embrace Mexico and wish them well in the World Cup.
For me, it's not a difficult question to answer. I'm a St. Louis Cardinals fan and as such my feelings toward the Chicago Cubs is quite similar to many fan's thoughts for the Mexican team. In the 2016 World Series I was most decidedly not rooting for the Cubs, darn it all.
Those who are lambasting Donovan might think this means I'm on their side in this debate, they'd be wrong. The most important factor in all of this are the concepts of liberty and freedom. I should root for and against the teams I want, and so should you. I have no say in your decisions. Whether or not you root for Mexico hurts me in no fashion and is none of my concern. Just as it was when my sister was rooting for the Cubs to break their long drought.
This simple understanding of freedom goes far beyond sports. If a PGA Tour player or a NASCAR driver doesn't want to visit the White House when President Obama is there or if an NBA or NFL player likewise chooses not to go when President Trump is in residence, that's their choice. It's not my decision and I absolutely should do nothing to coerce anyone into adopting my position.
It is the same for whom you should cast your ballot. It is the same for how you choose to listen to the National Anthem before the game. It is the same for who you decide to marry, what gender your decide to be, which bathroom you use, or what chemicals you put in your body. Our lives would all be better if we stopped worrying so much about what other people are doing.
I respect your freedom to decide matters as you desire. I'd certainly appreciate it if you'd do me the same courtesy.
Tom Liberman