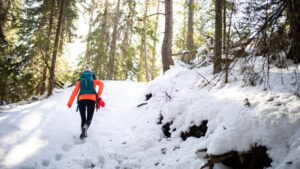 I just read an interesting article about Christmas Hiking that illustrates a difficult problem. Basically, a family always goes on a Christmas Hiking trip but the son's new girlfriend isn't comfortable or capable of managing the trail.
The question in the article is whether mom is wrong to insist on going Christmas Hiking anyway or whether everyone should stay home. Read the article to get the entire story and the alternatives mom offered, I think she's in the right, but that's not really what I want to discuss today.
Group activities can be a real pain and it's not always easy to come up with an equitable solution.
My Group Hiking Experiences
I don't want to focus solely on Christmas Hiking or even hiking in general but it is a good example to illustrate the problem. Any group activity is going to have more and less skilled participants.
Hiking is an extremely good example of this because it's not something you can just quit in the middle and call it a day. Once you're two miles down the trail, it's two miles back home. A person who is struggling can't just sit down and say they're done.
I've been on longer and more difficult hikes where one or several people simple cannot keep up with those who regularly partake in the activity. Those people start to walk slower and fall behind. The faster hikers now feel inconvenienced because they too must slow down or even take the cutoff route and shorten the hike.
However, the people who can't keep up also feel terrible. They think they're holding everyone else up and ruining the experience for the rest of the group. When they arrive at the cutoff, they don't want to force everyone else to shorten the hike so they try to soldier on. The body can only take so much. I've been on some pretty long and strenuous hikes; I've seen people suffering and it's not a great situation.
What's the Solution?
There really is no perfect solution. What's best is if people don't feel so much pressure to do things or not do things. Try to find hikes with cutoffs and encourage people to take them without guilt. Bring some food and beverages to leave at the car so those who take the short route have something to do when they finish early.
For those of us who like a brisk pace and a long hike, don't get so bent out of shape for taking it more slowly. It really doesn't matter all that much if you finish in three hours or five. Enjoy the scenery and the company. I don't advise hiking drunk but a sip of whiskey while sitting on a rock waiting for the others isn't the worst thing that can happen to me. Yes, sometimes I do take along a bottle, got a problem with that?
Conclusion about Christmas Hiking
The big thing is communication and compromise. Make sure there is a shorter route if you're worried about your ability to finish the hike. Take the short trail twice and enjoy it if you're hardcore. Life isn't about getting your way all the time. Be it Christmas Hiking or just a general group activity, try to be flexible and don't feel so guilty when you can't do something. Let the others go on, enjoy what you can manage.
P.S. Buy a good pair of hiking boots, worth every penny.
Tom Liberman