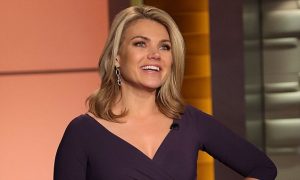 Heather Nauert was the planned nominee to become the United States Ambassador to the United Nations but President Trump never formally submitted her name to the Senate. The reasons for this became clear when it was revealed that Nauert employed a foreign nanny who was not authorized to work in the United States. The fact that Nauert has now withdrawn from consideration fully demonstrates the political insanity that is the norm in our country.
Let me be clear, Nauert is almost entirely unqualified for the position for which she was being considered. She earned a degree in Communications and a masters in Journalism then went on to a broadcast career at Fox News and ABC News working on a variety of assignments. She has no experience in international relations and was given a job as spokesperson for the State Department in the Trump White House simply because she catered to his enormous ego and is an attractive woman. It's really that simple.
That being said, Trump has every right to appoint whomever he wants to the position despite a of lack experience and qualifications. Nauert might have been an excellent Ambassador to the United Nations. It's impossible for me to say one way or the other how she would have performed on the job. Now she cannot because the Trump Administration has made illegal immigration a key issue and Nauert employed someone who was not authorized to work but was legally in the country. The optics of such an appointment don't look good.
The optics of appointing someone completely unqualified is apparently far less important than the optics of someone who has committed a minor infraction that benefited everyone involved. The nanny had a job making money, the Nauert family presumably had a hard-working and valued employee whom they trusted with their children. This is the reality of immigration, illegal or legal, but not the point I'm making today.
Where are we headed as a country if we can't allow people to do their job because they've violated, or are even accused of violating, some relatively minor law?
Before you leap on me for favoring one party over the other, let me state unequivocally this is an issue that plagues both parties. If a person has done something deemed wrong in their past, they are generally immediately disqualified by people of the opposite party while completely defended by those of the same party. However, if the transgression involves some core value of the first political party then they are destroyed by infighting within their own ranks.
Anyone who has lived a full life is going to be vilified by one side or the other leaving us with no one left to actually do the job.
This particular incident boils my Libertarian blood in two ways. Nauert never should have been considered for the job based on her skill set and she never should have withdrawn because she employed a willing worker to do a needed job.
Congratulations America, watch as the rest of the world catches up and eventually surpasses us.
Tom Liberman