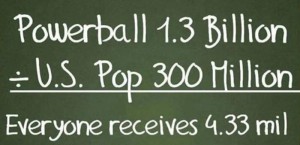 There's been an interesting meme making the rounds about the Powerball Jackpot of $1.4 billion and how it could be divided up among all the people living in the United States. It's fundamentally wrong in that the amount posted, $4.33 million, is an error. It would actually be on $4.33. That aside, I noted several of my friends on Facebook suggesting that if everyone was a millionaire economic ruin would follow.
That's the idea I want to examine today.
What if everyone in the nation, perhaps even the world, had enough money to buy most of the things they need with the exception of luxury items.
The theory my friends on Facebook have is that these people would never work again. They'd simply invest the money and live off the interest while eating, sleeping, and otherwise occupying themselves. The problem being that if they wanted to play a round of golf all the people that work at the golf course wouldn't be there. There would be no one to get out the carts, no one to take their payment, no one to mow the grass, no one to weed, no one to do anything. All those people would have retired as well.
What incentive is there to work if not to provide basic economic needs? If you have food, utilities, entertainment, and other things, why would you labor?
It's a fair question and I think the answer lies within our nature. I'm of the opinion that we don't do things simply to have enough food. There is a deeper yearning within and that is to achieve things. That is the underlying foundation of happiness. When we achieve we are happy. Certainly money allows us to purchase things that make life more comfortable and acts as an incentive but it is only a shadow of the real thing that drives us.
As modern, so-called Western, culture has made people wealthier it has not stopped that drive to achieve but in many ways fueled it. Poor people in poverty stricken nations have far less than their equivalents in wealthy nations. We've seen the definition of poor radically change as wealth has increased but we have not seen a drop in a desire to work.
But there is a danger and I think that it comes from our worship of money as opposed to achievement. When we place wealth on a golden pedestal we fool people into thinking that money is the goal. It is not. The goal is happiness and we get there by doing things well. We get paid because we do things well and thus can afford more luxuries, this is true, and I'm not arguing against giving achievers more money with which to buy things. I'm just arguing that the emphasis on which we often put the two is wrong.
Achievement is the goal. Happiness, money, comfort, and success are the results.
If we make achievement the first priority then wealth, for everyone, naturally follows.
As energy becomes cheap and readily available, soon enough everyone in the world will have their basic needs met without having to work. I'm of the opinion this will not lead to stagnation and ruin but to an age where humanity achieves things heretofore all but unimaginable.
Tom Liberman
Sword and Sorcery fantasy with a Libertarian Ideology
Current Release: The Girl in Glass I: Apparition
Next Release: The Gray Horn