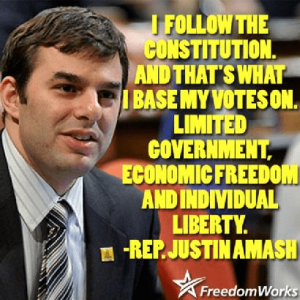 I posted a comment when Ben Shapiro noted on his Facebook page that Justin Amash would not run for reelection in Michigan's 3rd District where he has served for ten years. As the only Libertarian in Congress, Amash has views that tend to align with my own and I expressed support for Amash and the decision he made but also sorrow that he would no longer represent my interests in Congress.
A number of replies to my comment suggested the reason for Amash not running was his political ideology no longer represented that of his district. I agree with this sentiment and that's the entire purpose of elections. However, I disagree with the generally expressed hypothesis for the reason the two no longer aligned. This was Amash changed his political ideology starting in 2016 and fully in 2019 when he changed his party affiliation first to Independent and then a Libertarian.
While Amash listed himself as a Republican he has always been a Libertarian in sentiment at least. His voting record dating back to when he first entered Congress shows a great willingness to vote against the Republican party when his views did not align with it and along with the party when their views aligned.
For example, back in 2012, despite being a pro-life advocate, he voted against the Prenatal Non-Discrimination Act which would have outlawed abortions because the parent did not like the gender of their fetus. He did so for the simple reason that it was ineffective, impossible to enforce, and that thought should not be illegal. At the time he stated, and I think still believes, all abortions should be illegal. It is clear he was always an independent thinker and believed the Constitution superseded any so-called moral authority. He was elected by his district multiple times after this vote.
You can examine his record thoroughly on his Wikipedia entry but even a cursory examination reveals a Libertarian who believes the Constitution is the law the land, not a political party or a person. He has exactly the same political ideology today as he had when first elected to Congress.
The hypothesis is that Amash suddenly changed in 2016 and that is why the voters of his district no longer want him. I reject this line of thought based on the evidence of his consistent voting record since arriving in Congress.
The political ideology that you held dear when you elected Amash, you now reject because those breaking the laws of our land now identify as Republicans instead of Democrats. Limited government, reduction of deficits, separation of powers, freedoms guaranteed by the Constitution.
My hypothesis is that Amash did not change at all. You did.
Tom Liberman