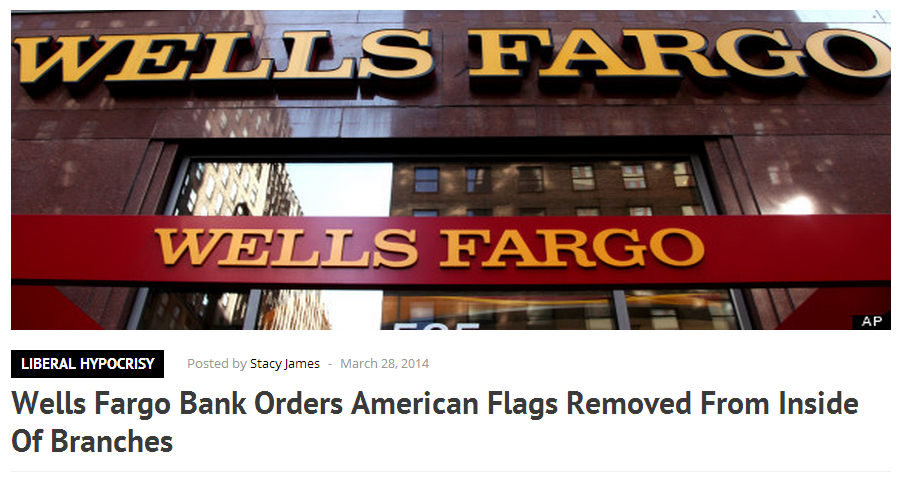 What's a boy to do? I mean, I try to have one stupid or misleading headline a week but it's hard to ignore viciously and completely misleading headlines like this one!
Wells Fargo Bank Orders American Flags Removed from Inside of Branches! screams the completely inaccurate and misleading headline.
The story leads by telling people they should think about closing their Wells Fargo accounts.
Here's the real story.
I'll sum up for you. Liberty First News wants you to think that customers complained because an American Flag was flying in the bank and in response Wells Fargo removed all American flags from all their offices.
In reality the flag was tacked to a board and an employee complained that it was disrespectful to the flag to display it in such a manner. Wells Fargo agreed and had it properly displayed on a flagpole.
The vitriol of the people who apparently trust Liberty First News to supply them with accurate information has to be seen to be believed. The story now has a Facebook life of its own and the comments are filled with hate and outrage at the liberals and illegal aliens and foreigners who hate America so much. Looking for someone filled with hate? Look in the mirror.
I have some sympathy for the people who believed this story although not much. It's easy to trust a news source and I've been fooled a couple of times myself while writing this blog. Still, this one seemed so strange that I immediately went out in search of the real story which I found after approximately 30 seconds.
What I don't have sympathy for is anyone who continues to read Liberty First News and trust it as a source of information. That person is a fool.
Tom Liberman
Sword and Sorcery fantasy with a Libertarian Ideology
Current Release: The Spear of the Hunt
Coming very, very soon: The Broken Throne