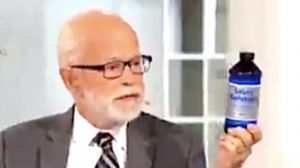 Coronavirus, Covid-19, is big news around the world these days and I like to examine what responsibility government has to protect citizens from the plethora of fake Coronavirus cures that are being promulgated far and wide.
As a Libertarian I don't think the government has much responsibility in protecting us from ourselves. I oft rail against the War on Drugs as a failed attempt to do so. I've likewise spoken out against gambling laws but it is quite clear the internet is filled with fake Coronavirus cures and anyone taking these puts themselves, and others, at risk.
The basic idea for government intervention goes back as far as con-artists have been trying to take advantage of people. Someone recognizes a situation in which people are desperate, perhaps not thinking clearly, and attempts to take financial advantage of them with fraudulent claims. This constitutes a crime, fraud. The snake-oil salesperson sold you something under false pretenses and you are entitled to compensation for damages rendered.
In this case, the potential for damage is quite high as Coronavirus can be lethal. Perhaps you purchase a fake Coronavirus cure and then engage in risky activities because you think you are immune. Soon you or someone you come in contact with gets sick and dies. That's significant from a legal perspective in awarding damages for fraud. Good. Damages should be awarded. This is the judicial branch of government doing what it should.
However, this situation involves the law enforcement arm of government ordering fake Coronavirus cures removed from sale altogether. In New York, for example, a silver cure offered by a religious figure is no longer legal to sell.
The question for me becomes, if someone believes an absolutely nonsensical claim and wastes money on a fake cure, is it the responsibility of the government to protect that person. You'd think the answer was quite simple. The threat is real, the cure is obviously fake, what is the harm in removing it from the public eye?
Here are my issues. Fake Coronavirus cures aren't going away because the government bans them. While one particular phony cure will be eliminated from the market, a dozen others, rebranded and marketed will appear.
Can the government stop people from offering prayer as a way to cure or ward off the disease? Trust me, there are religious groups across the country offering this method as a curative. Should preachers who offer it be subject to arrest and imprisonment?
This is where government tries to protect us from ourselves. I have no problem with government agencies speaking loudly and clearly about the efficacy of reported treatments. I have no problem with media entities refusing to run advertisements for these products, I applaud them for doing so.
The reality is the government cannot protect us from phony Coronavirus cures. Only we can do that with critical thinking. When the government attempts to do so, they actually give people the impression there are no more fake cures out there, seeing as they have been restricted. Therefore, when you do see a cure, it must be real, right, because the government hasn't banned it yet.
The only real solution is to be a responsible adult and make good decisions. Will people make stupid decisions? Certainly. That's life. Does that mean we all might be infected because someone is an idiot, yep.
Freedom is free, it just isn't safe.
Tom Liberman