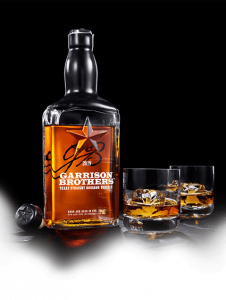 I attended an event at the whiskey place down the street, Gamlin Whiskey House, to learn about Garrison Brothers Whiskey and during the talk found yet another reason to hate government. One of the Garrison brothers mentioned that it was illegal to distill whiskey in Texas when he and his brother started up their business. Only the personal intervention of Governor Perry allowed it to take place. You'd imagine I'm happy about that but you'd be wrong and I'm here to explain why.
Apparently, the Garrison lads were learning how to distill in those early years but not actually selling any product. They knew what they were doing was illegal in the state of Texas but nobody really cared as they weren't in a commercial business.
The distillery is located in Hye, Texas which is not far from the state capital of Austin. This means that Perry happened across it one day. Perry also happens to be a whiskey drinker. Imagine, if you will, that the Garrison Brothers distillery was not located near Austin, that Perry was a teetotaler, that Perry's wife had bad romance with one of the brothers. Where would Garrison Brothers be then? That's the root of the problem.
Yes, it's nice that the government of Texas allowed the Garrison Brothers to legally distill and sell their whiskey. However, it's awful that the government is in a position to allow or disallow such activity. The Garrison Brothers should be able to distill their whiskey and sell it with or without government support. You only have to look at the horse meat industry to understand the government can put anyone out of business, at any time, with the stroke of a pen.
Certainly, the government has the right to obtain a sample of the whiskey, send it to a laboratory, analyze it, and publish the result of that analysis. Let the public know if the whiskey has so much alcohol that it is toxic. If the whiskey is toxic then the law enforcement arm of the government can spring into action.
Whiskey reviewers have the right to purchase the whiskey and assign it a grade and the government should be able to do the same thing.
The whiskey, you ask? It's made with high desert water from Texas and local produce so it has a different overall feel than Kentucky or Tennessee whiskey. It is softer in the mouth and doesn't have that immediate striking feel on the tongue and roof of the mouth but has a lingering and lovely flavor on the side of the mouth and down the throat.
My recommendation? Next time you go whiskey shopping, purchase a bottle. You might find it becomes a go to brand or you might not find it to your taste. That's a choice for you to make, not the government.
Tom Liberman