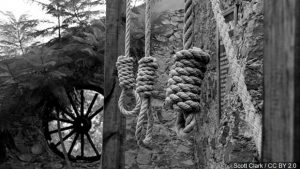 Lynching will soon be a federal crime if President Trump signs a bill to that effect. The bill passed the House of Representatives by an overwhelming 410-4 vote and passed through the Senate without opposition so it seems unlikely to be vetoed.
To understand my objection to this law I must explain that I think any law must have a well-defined, non-paternalistic, and useful purpose. If a law doesn't have all these things, it is a danger to freedom.
A law that is not well-defined is, by its very nature, open to abuse. Law enforcement officials are put in the position of enforcing a law based on their judgment. This means that groups of people who are, for whatever reason, perceived as less important will suffer the brunt of enforcement. We need not look any further than poorly written traffic laws which result in a hugely disproportionate number of citations against minorities and poor people.
A paternalistic law is essentially the government telling an individual how to lead their own life because the majority thinks they know better. The War on Drugs is an example of this kind of law. This war has caused far more harm than it has prevented.
In this case the law is useless from a legal perspective. No one has been lynched in the United States since 1955 when Emmett Till was brutally killed. He is the last of the estimated 4,733 people so murdered. If no one has committed this crime in sixty years then what is the point of having a law against it? No lives will be saved and no criminals brought to justice who would have otherwise escaped penalty.
That is not to say the law is without purpose, it is just without useful purpose. The law has political purpose. It gives legislators a way to tell voters they are doing something, they care. It is a backward way of apologizing for allowing all of those lynching to take place at all.
If you want to apologize, and believe me, an apology is owed, then do so. I'm sorry that I am part of a government that allowed nearly five thousand people to be brutally murdered without any attempt to bring the criminals that did so to justice. It is a stain on the honor of my country, my state, and my municipality. It is a sickening example of the irrational hate and to the horror such hate allows people to engage in. The fact it was tolerated is vile and I am ashamed that it happened. This law does not make such an apology. It is almost an affront to a real apology. It is a fake apology designed purely for political gain.
What good will this law do? What criminal will it bring to justice? It is even possible it might be manipulated in the future to further penalize someone the government doesn't like. Let us not pretend such things do not happen.
If a law does not have a well-defined, non-paternalistic purpose, let us not make the law. Even if the law is against an activity that should clearly never be tolerated, as is the case here. Lynching was and remains disgusting. This law doesn't do anything to prevent it, it does nothing to bring criminals to justice and that must be the explicit purpose of any law.
If you are looking for a way to improve the plight of minorities in this country I'd suggest a look at traffic violations and the War on Drugs.
Tom Liberman