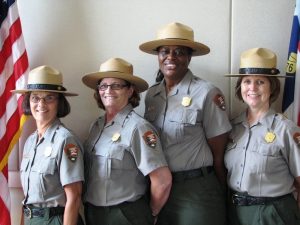 There's an interesting story making the rounds about how National Park Rangers will be moving from their normal jobs to that of patrolling the border with Mexico. The reason this is being done, and has been done since last year, is because President Trump needs more money to build a Border Wall and is saving money by using employees from another department rather than hiring new Border Patrol Agents. I'm mad about this but my reasons are somewhat different than those being presented by those against this shift.
There are any number of Democrats opposed to this plan. For the most part their argument is the resources being used, that is to say National Park Rangers, are not trained to be Border Patrol agents. They are ill-equipped to do the job. In addition, National Park Rangers taken away from their normal job leads to understaffing.
Both of these things are largely true; however, the underlying problem and the disrespect both parties show for the Constitution of the United States is what bother me. I pay taxes. A lot of people pay taxes. We vote for representatives to determine how to best spend those dollars. There are going to be disputes among our elected officials as to how to spend the money and certainly I'm not going to agree with many of the decisions that are made, that being said, those decisions should be final.
When you take National Park Rangers away from their job patrolling the parks you are spending money in ways that Congress has not authorized. It's my opinion, which I've written about elsewhere, that taxes should go to appropriate agencies. A gasoline tax should be spent on road and bridge infrastructure. An airline tax should be spent on our federally funded air travel industry. When we shuffle money around like this there is no longer any accountability.
Imagine you were getting married and I gave you $100 gift card to purchase a wedding present. You then sold the card to someone else for $90 and took the cash to go on a bender. I'd be angry and rightfully so. We had a contract and you reneged on it. I could take you to court and attempt to get my money back. So too should I be able to sue the government for spending my money on things not authorized by Congress.
The government has become so accustomed to moving money from one account to the other without any care of how it was actually meant to be spent that those in charge take it for granted they can do so.
In my home state of Missouri; money people spend on Lottery Tickets is supposed to go into the Education fund. I hate to be the bearer of bad news but that's not what happens. Politicians budget no or little money for education and use lottery proceeds to fill in the gap. They are taking our tax dollars, which were largely paid via Property Taxes under the Education line item on our state tax bill, and spending it on whatever they want.
Congress authorized a particular amount of money for the National Parks Service and another amount for Border Patrol. It must be illegal to simply swap money from one endeavor to the other. It cannot be anything other than that.
If you cannot get Congress members to appropriate the money you want, then you need to go back and convince them differently, not simply steal from Parks to pay Border.
Tom Liberman