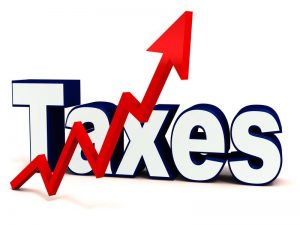 The other day on Social Media one of my self-proclaimed Conservative friends posted a missive about taxes funding our communities. After I cleaned the vomit from my mouth, I decided to write an article about why this is utter insanity rather than berate said bleating Republican in a scathing reply.
You see, loyal readers, my social media friend can certainly call himself a Conservative but his attitude about taxes funding our communities shows his true colors as nothing more than an odious Republican who long ago gave up on all but the word Conservative.
The post in question was in regards to a mall that had long ago lost most of their stores through natural economic forces, a process I discuss in other blogs. The space was being used as a sporting venue for citizens to play games. My self-proclaimed Conservative friend wrote: It is a frequent re-purpose but sad for the economy. The drop in property value, lower property taxes, and less sales taxes to fund our communities.
The mere idea that it should be taxes funding our communities, let alone the delusion they are actually funding our communities is the worst sort of liberalism. Taxes do not fund our communities. They are collected by the government in order to provide services for the citizens. The community funds the government not the other way around.
Government does not build the roads. Roads, pipes, electric lines, green spaces, security, and fire protection is built because of our needs. Yes, the government uses funds collected through taxes to pay construction companies, police officers, and others but that is not funding our communities that is merely streamlining from a central point.
Let me illustrate with the example of the original social media post. My self-proclaimed conservative friend laments the loss of tax revenue from giant malls that no one has an interest in going to anymore. Doesn't that say it all. Darn it, I can't steal your money to prop up a business endeavor no one wants while paying myself a hefty salary to do so. Why should we pay taxes for utilities, roads, parking lots, emergency services, and a myriad of other things that go to a place no one uses anymore? Hint, we shouldn't.
That's the misguided role of government in a declining nation. To prop itself up with money stolen from citizens for things they don't even want and certainly don't need.
We want roads that go places useful to us. When a sales tax isn't collected because no one is going to the store, that's not a bad thing. That's not a loss to the community. It's a natural economic impact and the idea government is responsible for that store in the first place is misguided at the least. We were responsible for the store's existence and now we don't need it anymore. Good riddance.
It's ass-backwards what my so-called Conservative friend advocates. It is not taxes funding our communities. It is our communities funding government and we should only fund what we need, not its bloated and endlessly empty belly.
Tom Liberman