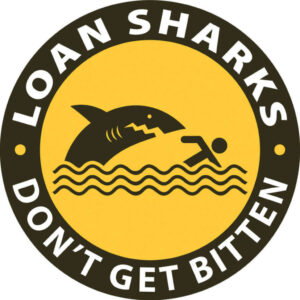 I just read an interesting article about five million dollars in late fees that sums up why the government is largely nothing more than a mobbed-up loan shark, bleeding citizens for all their money. In Branson, Missouri, there are four customers who have an outstanding sewage bill of $19,000. With the late fee tacked on top of this, they now owe over five million dollars.
The government has no incentive to make you pay your bills, they want you to rack up fees. It's not only for utilities, as in the story in question, but it's driving the Student Loan Crisis. It's the main reason law enforcement issues as many fines as possible. It's rampant in private business as well. It largely caused the housing bubble crisis.
How a Loan Shark makes Money
It's pretty easy to be a loan shark and the methodology isn't difficult to understand. Basically, get someone to owe you money for whatever reason. Then allow them to pay in installments with an interest fee tacked on. Then simply let your client pay the minimum amount so that the principle never gets paid down.
This is called a predatory loan and the reason loan sharks used them is because government, banks, and established businesses, at one point, refused to loan to someone who could not eventually pay it back. Times have changed.
Envy of the Loan Shark
In modern times the government, in the form of utilities, city fees, penalties, traffic and parking violations, student loans, licensing, and anything else they can think of; uses the loan shark methodology. Why? Because it works.
Sure, a lot of your loans will never be repaid but that's the cost of doing business and business is booming. Once you've bled your mark for more than the principle loaned it's all gravy at that point. This is how government survives. Penalties, over-due fees, escalating and leading you to bankruptcy. At the end of it all, in the case of this article, they simple turn off your water, having collected far more than was owed. Win!
The Causes
The cause of all this is complicated to be sure but a big part of it is increasing government expenditures largely related to infrastructure and lowering of taxes as a political win. The government simply doesn't have enough revenue from taxes to pay their bills. Government's innovative solution was to become a loan shark. They might claim there is a surplus, as here in my home state of Missouri, but this is just an excuse to lower principle taxes for wealthy people, while sticking it to poor people with increased fees.
The Solution
Good luck, there isn't a solution. Almost every level of government, local, state, and federal; is leveraged up to their ears in loans. Just keeping up with infrastructure maintenance takes up the entire yearly budget. It is never going to be able to pay back the principle. Government takes money from citizens to pay off their own masters, the banks.
Meanwhile, they create misery for an increasing percentage of the population that lives month to month. Is it any wonder people are angry? Their anger is, of course, completely misdirected. They want to blame the politicians on the other side of the aisle.
The job of government is to improve the lives of citizens. Our government has failed.
Tom Liberman