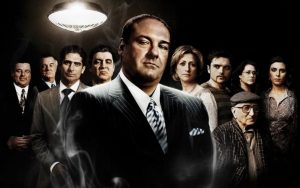 With this latest, and unstoppable, economic bailout the United States now officially declares itself a Sopranos Associate. The government currently owes $22 trillion and, with the stimulus package in the works, that number is going to rise more rapidly that in any time in the history of the country. What you have to understand is that this is borrowed money on which interest is paid by taxpayers.
In the criminal world this is called Loan Sharking which was one of the main methods in which a Sopranos Associate made money, off which they pay a percentage to Tony Soprano and the rest of his criminal organization. In government, they call this debt service but it's the same thing.
The United States borrows money from bankers and wealthy people, largely Chinese and Saudi Arabians, who purchase Treasury Bonds and then pay interest on this loan with the intent of eventually paying the principle amount back. As any good Sopranos Associate knows, you don't ask for all the money back at once, you bleed them slowly with what is called vigorish, or vig, in the criminal world but interest in the banking world.
I wrote about how the Post Office of the United States was deliberately driven into bankruptcy in order to take out loans so taxpayer money could be used for the vig to bankers. This is essentially what has happened to the entire United States government and we the taxpayers are paying the bill for the degenerate gambling politicians who, it must be admitted, we elected in the first place.
I've said for many years now that there is no chance the principle amount of the loan will be paid off and the entire debt is largely a way to redistribute taxpayer money to friends of politicians. If you are unwilling to admit this reality now, well, I suppose I'll never convince you and just stop reading.
The saddest part about all of this is that we are the ones getting run over by the $60K Lexus but it is our elected officials who borrowed all the damn money. We didn't even get to do any gambling and that Sopranos Associate, the United States government, is having all the fun.
The end of the story? World governments go bankrupt and forgive all the debt. In the meantime, your money is going to a Loan Sharking Sopranos Associate who is buying vacation homes, renting yachts for family vacations, and generally doing all the things with your money that you should be doing yourself.
Tom Liberman