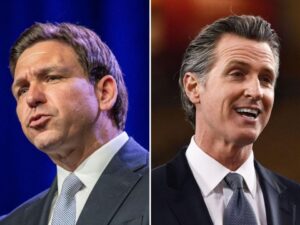 Newsom versus DeSantis. The very words come with the taste of vomit to my mouth. Is this what we've arrived at in this country? The governor of California and the Governor of Florida debating despite the fact they are not running against each other.
What can I even say at this point to anyone who doesn't recognize the utter stupidity of this debate. The vapid, valueless, soundbite, stupidity of this event. By Grabthar's Hammer I hate it and the environment that makes it possible.
Why Newsom Versus DeSantis?
It's all about being seen defending the ideology of idiocy. They both want their name in the public view as much as possible. Why? Because the idiocracy that the United States is swiftly becoming. The voters vote for this sort of stupidity.
Peruse the news aggregator of your choice and count the insane headlines. The dumber and more controversial the headline, the more clicks it gets. Some outlets, 1945 for example, post the most idiotic headlines representing all extremes of every side. They just don't care.
The same goes for the people commenting on the moronic stories. The dumber and more inflammatory the idiotic comment, the more responses it gets. Winning!
Out-of-Control Ideology
The Newsom versus DeSantis debate is just a symptom of out-of-control ideology. It's so bad the loudest proponents on both sides don't care in the slightest if what they say is factual, accurate, defamatory, might inspire violence, or is just pure insanity. Give me those likes, baby!
Everyone Knows Newsom versus DeSantis is Stupid
I know it. You know it. DeSantis and Newsom know it. The cat knows it. They aren't running against each other. They are from states on opposite sides of the country. They are doing it purely to have their face and moronic ideology broadcast to the True Believers. I'm on your side, I care about you.
They don't. They hate you. They only love themselves, the sickos. And you people voting for them enable it all.
Conclusion
Barf.
Tom Liberman