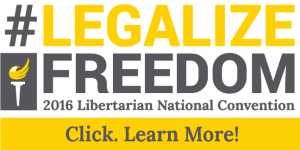 As many of my democratic and republican friends lament the "rigged" system in which a series of complex rules bind or do not bind delegates to a particular candidate during their party's nomination process, another system was on display this weekend in Orlando, Florida.
My party, the Libertarians had their convention. You probably didn't hear much about it for a number of a reasons. One reason is that Libertarian candidates do not generate many votes, they hold no national offices, and precious few state positions. There is another reason and one I'd like to offer up as a contrast between the way the Republican and Democrats do things as compared to Libertarians.
We've had a long nomination cycle, which continues, in which voters in each state and territory of the union vote for candidates. Delegates then cast their vote for the candidate. The Republicans and Democrats have complex rules about how delegates can vote and many are bound to the choices the voters made. These rules are changed and modified each year, largely in an attempt to get a particular candidate nominated. Look up the Ron Paul rule for an example.
At the Libertarian Convention a delegate is bound only by her or his conscience. There is no state by state vote. Rules are not arranged to ensure a particular candidate is guaranteed victory or an upstart is shunted to the back of the room. The Libertarian Convention almost always has a Contested Convention. That is a convention in which none of the candidates receives 50% of the vote. Thus diplomacy comes into play in vote after vote until a consensus is finally reached.
In a Libertarian Convention delegates are not barred if they represent a candidate who stands little chance of winning. Delegates feel free to boo the candidates who express ideas with which they disagree. The room is not filled with flag-waving non-delegates designed give the impression of unity and support. Libertarians welcome dissent. Like in life, we embrace opposition for it is only by testing ourselves that we reach our full potential. It is only by listening to alternate ideas that we come to know all our options.
Now you know how we do things. Which system do you think is best?

Loading ...
Tom Liberman