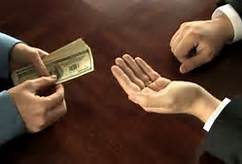 The appearance of impropriety is when something looks wrong even though there is no proof of wrong-doing. A story I read in the back pages made me start to think about this phrase.
You often hear it quoted in its negative, "We must avoid even the appearance of impropriety."
The story I read was about how U.S. lawmakers are once again taking family vacations, er fact-finding missions, all over the world as guests of generous lobbyists. This practice was curtailed in 2006 after the Jack Abramoff scandal. By curtailed I mean lobbyists could only pay for trips that lasted one week instead of two-weeks out of the country and four days instead of one week inside the U.S.
We must remember that politicians are largely funded by special interest groups and the lobbyist they have on staff. Politicians cannot win the primary or general elections without such support. Once in power they continue to take money from wealthy people and groups who have particular political agendas. There are rules about how much and what the money is spent on, but these are easily circumvented by creative lawmakers and lobbyists who want their votes.
Politicians regularly take exotic trips, go to sporting events, funnel money to friends and family members, and use their legislative power to help those who provide this largess.
The same politicians argue that they still vote their conscience, that they don't let such influence peddling effect their decisions. That these vacations are valuable cultural exchanges. If you believe this, if you spew this nonsense yourself, then I have nothing to say to you. You might as well stop reading now.
We've long since passed the point where anyone cared about avoiding the appearance of impropriety. The entire system appears improper. The entire system is improper.
It's so ingrained, so institutionalized, that there is no possible way for a Democrat or Republican to get elected without being the beneficiary of such gifts. If they refuse they magically lose their funding, the support of their national party, and any chance of being elected. The only candidates to vote for are those already corrupted. Any politician who goes into it with idealistic dreams doesn't last long. Only jaded, corrupt, bad characters need apply.
When we "toss out" a corporate bought Republican we get a union bought Democrat. No progress there.
Big money wins. Big business, big farms, big unions win. Small business, small farms, small people lose.
There is a solution. Anyone who reads my blog with regularity knows it. Vote Independent. Vote Libertarian.
Even if Independent candidates don't win elections; enough votes can stem the tide. If Independent candidates get enough votes the Democrats and Republicans will take note. Candidates with integrity, who care about their district, their state, their country will start winning primaries.
Don't believe me? Keep voting for Democrats or Republicans. See what happens.
The appearance of impropriety? Ha.
Tom Liberman
Sword and Sorcery fantasy with a Libertarian Ideology
Current Release: The Sword of Water ($2.99 full length eNovel)
Next Release: The Spear of the Hunt